MEN STYLE
spring/summer 2011
fashion by Dirk Bikkembergs, Pierre Cardin
Men's wear 2011 presented in Africa
On 18 June 2010, one day before the presentations of the new men's collections SS2011 at the Milan Moda Uomo (19 to 22 June) started, football addicted Belgian designer Dirk Bikkembergs' couture-sportswear 2011 collection premiered in Cape Town, South Africa, where the FIFA World Cup 2010 happens from 11 June to 11 July. And this although, Bikkembergs' is a 'Milan addicted' with own flagship store in Milano.

Video: Dirk Bikkembergs explains in this video why he has chosen South Africa as location for the presentation of the new men's wear SS2011. The video provides a great view on 'Table Mountain' in Cape Town (view the map). It is produced by the Milan based FashionTimesMagazine www.fashiontimes.it, founded 2006 with the vision to publish content created from a new editorial concept for capturing international fashion.
Another reason than the football WM has motivated the French label Pierre Cardin to its photo shooting in the deserts in Morocco and inside Marrakesh. The creative team has searched for a location that fits to the new interpretations of the traditional colonial- and safari-styles.
Pierre Cardin is born in Italy (1922) and moved as a child with his parents in 1924 to France to escape Fascism. He is known for having a Palazzo in Venice where Giacomo Casanova lived and a Marquis de Sade castle in France.
Pierre Cardin worked before he founded his own label (1950) for Elsa Schiaparelli and Christian Dior (keyword 'New Look'). He was the first designer who moved from haute couture into ready-to-wear; by the way: he moved at first with the men's and later in the same year with the women's wear. This was 1959.
Recently, Pierre Cardin was interviewed for Jean-Pascal Hesse's book 'Pierre Cardin - 60 Years of Innovation', published by Assouline in 2010: "I believed strongly in broad distribution. I exist today because of ready-to-wear. It was not a dishonor to leave the golden salons for the streets."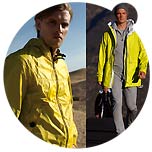 fig.: original beginning from above, from left to right
Sportswear jacket with windbreaker functionality in lime yellow with jeans in the light color 'limo' by Pierre Cardin, SS2011.
Rain protection jacket in neon-yellow with white lining combined to an asphalt grey jogging suit in cashmere and viscose by Dirk Bikkembergs, SS2011.
Casual trousers in khaki and blue shirt by Pierre Cardin, SS2011.
Blue denim jeans with black sportive jacket by Dirk Bikkembergs, SS2011.
Computer-pixel-print of a football on a sleeveless black t-shirt with black jeans by Dirk Bikkembergs, SS2011.
Light blue shirt by Pierre Cardin, SS2011.

Source: Original article with video and images on http://www.confashion.com/ss2011/africa6-2010.htm.


more fashion.at/mobile>
News from
May 2010
April 2010
March - April 2010
January - March 2010
December 2009 - January 2010
December 2009
November - December 2009
September - October 2009
July - August 2009
May - July 2009
April - May 2009
Jan - March 2009
October - December 2008


subscribe
terms
imprint
Sawetz (C) 2008/9/10