IMPULSTANZ
Vienna International Dance Festival
15 July - 15 August 2010
Rock music and dance

In June 2010, the Viennese Dance Festival has sent a catalogue which starts with the inviting words by cultural manager Karl Regensburger who cites German author Botho Strauss: "Were I to decide on the non-word of this age, there could be only one: communicating. An author does not communicate with his reader, he tries to seduce, to amuse, to provoke, to animate."
For 2010, Karl Regensburger has collected artists, performances, and workshops by this leading idea and the keywords: heart, breaks, rhythm, magic, hope and understanding. And not to forget the sexy touch of the program: the 'Wild Walk's begin at 23.00 on various venues in Vienna.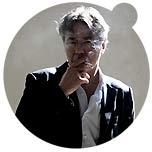 fig.: Karl Regensburger, cultural manager ImPulsTanz - Vienna International Dance Festival. Photo: (C) Michael Dürr.
For the ones who understand German, the article 'Der 24-Stunden Karl' (means 'The 24-hours Karl') by the Viennese magazine 'Falter' from July 2007 is a good source to find out more about Karl Regensburger, his addiction to dance, this festival, which he has made to one of Europe's most important, and his sleepless nights.
The festival opens with the premiere of the performance 'What's the prediction' by the Belgian choreographer Wim Vandekeybus together with his company Ultima Vez and the band of rock musician Mauro Pawlowski (dEUS) on 15 July 2010 at the main court of the MuseumsQuartier. The opening event is announced to become a 'hot catwalk programme'.
Video: Performance 'nieuwZwart' by Ultima Vez & Wim Vandekeybus. Music by Mauro Pawlowski, posted in September 2009.

Source: Original article with video and image on http://www.fashionoffice.org/culture/2010/impulstanz6-2010.htm.


more fashion.at/mobile>
News from
May 2010
April 2010
March - April 2010
January - March 2010
December 2009 - January 2010
December 2009
November - December 2009
September - October 2009
July - August 2009
May - July 2009
April - May 2009
Jan - March 2009
October - December 2008


subscribe
terms
imprint
Sawetz (C) 2008/9/10