FASHIONOFFICE INSIGHT
by publisher Karin Sawetz
January 2010
Journalism and Social Media in 2009 and 2010
In the last 15 years, journalism has changed faster than ever before. In the beginning of the internet, some journalists had been in doubt if their profession stays the same when they are publishing online. Is a medic a medic when he works in a penthouse surgery or in a mobile public hospital?
The place or - space, does not decide about the journalist's quality. Journalistic work can be found on blogs too. With one difference: blogs don't underlie the media law like magazines or daily news papers who have to separate strictly editorial content from paid content or advertising.
But (probably) even this differentiator will find its end in 2010. In Oct 2009, the US Federal Trade Commission, the FTC published new guidelines that affect also bloggers to flag postings if they are in paid connection with the advertiser or receive products, tickets (concerts, movies...) for a review.
The magazine Fashionoffice is developed according to innovations in technology and user requirements. The increasing interest for updates on mobile phones is provided by the magazine's mobile site fashion.at/mobile, videos from social media like YouTube are completing Fashionoffice's editorials or become thematized in articles (read about the video below), and consequently, the internet and its social media devices have changed the journalistic research on public opinion and how it's built today.
Fashionoffice.org will continue to report from the organisation's research about the internet and its influence on fashion, beauty, and art in 2010.
Most viewed articles in 2009 Above all, especially young talents are requested. The students from the Academy of Art University San Francisco are getting more requests than the labels Chanel, Triumph International, and Calvin Klein in the 10 first top-ranking positions in sum.

In 2009, the users had been mostly interested in articles (statistical data delivered by Google Analytics) about students from the Academy of Art University San Francisco, Chanel, Triumph International, Calvin Klein, Make up For Ever, Wolford, Women in Film Noir, Vanessa Beecroft, Philipp Plein, etc. to name the most important from the top-position rankings. Details: 'Most Viewed 2009'.
Reliability of the data: Fashionoffice's technological premises are common practise From the start (early 2006) and through the years of monitoring traffic and its effects on rankings in search engines by using measurements of third-parties (Google, MSN, Alexa…), Fashionoffice has checked constantly together with official authorities for internet security and administration the reliability of the data delivered by the server of Fashionoffice.org. For example: The significant expansion of user traffic from Pakistan on the domain fashion.at during the month October 2009 and CERT's explanation: some reasons for the domain's popularity boom in Pakistan.
Video: The article about the video from fashion and music video director Saam Farahmand for the Simian Mobile Disco track 'Cruel Intentions' with vocals by Beth Ditto is an example for the new working process of journalism. For the article, the classical 'recherche' went online to search engines; especially the magazine's own engine on FashionAvigator as well as Google. The product is a mash-up article with the title 'What's shocking on a wilful disorientation?' filled with information about director Saam Farahmand and Beth Ditto from Fashionoffice's own editorials from former times, as well as citations from other journalists which had been found by using keywords on Google such as the article by Matthew Richardson on Prefixmag.com who writes about the video: "Does that chick who looks like a ginger Anna Wintour instigate some kind of sapphic orgy?"
Keyword 'Anna Wintour' - One of the favorite images of fashion journalists by the end of 2009 seems to be a photograph showing Anna Wintour sitting in the front row with bloggers which are tiping into their notebooks. Even Eric Wilson from The New York Times uses it in his article 'The Year in Style - Bloggers Crash Fashion's Front Row' from 24th December 2009. The article gives a good insight into today's work of a journalist. It ends with the hint that "On several fashion sites last week, it was reported that Vogue is planning to feature a group of bloggers in its March issue, including Tommy Ton of Jak & Jil, Ms. Doré and, yes, even Bryan Boy."
Work of the Devil? - I have found the front row picture in another magazine; Sportswear International has recently released the issue '#228 The Online Issue Winter 2010' with an extensive feature about 'how to use social media'. The feature spots with interviews and analysis on the marketing efforts of the fashion business and its strategies to stay in contact with the consumers. Sabine Kühnl writes in the 'Editor's Letter' with the title 'Work of the Devil?': "Fashion shows are streamed online in real-time, company blogs herald the latest product news or events (including the possibility for users to comment) and online styling studios serve as virtual changing rooms. And if we believe what experts say, we are on the bottom step of the ladder regarding the development of social marketing and online communities."
My own opinion about Social Media - Probably you ask yourself what I as a journalist think personally about Social Media? I think it's great! Never before it was so easy to research public opinion; even if Social Media are bearing new risks for finding the truth. My personal future-sight is similar to journalists like from The New York Times or Sportswear International: the importance of Social Media for PR (public relations), marketing, and journalism is a fact that can not be ignored in 2010.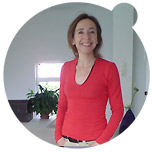 fig.: You can see me drinking Carpe Diem at Starbucks in Vienna, Dec 2009. Before the picture was taken, I had an ultra-sweet Hazelnut-Hot-Chocolate which I paid myself. (I mention this to make sure that I am not in an advertising connection for this photo with Starbucks or Carpe Diem.) My accompanying friend was so kind and let me slug down the chocolate with his herbal beverage. I love to remember the exciting tastes and atmosphere at Starbucks on this Sunday afternoon in late December 2009. I wish all readers of Fashionoffice a Happy New Year 2010! Keep your good taste and stay connected with Fashionoffice!

Karin Sawetz is journalist, media researcher and fashion scientist (Mag. Dr. phil.). > sawetz.com

FASHIONOFFICE INSIGHT:
Dec 2009
Nov 2009
Oct 2009
Sept 2009
Aug 2009
July 2009
June 2009
May 2009
Apr 2009
Mar 2009
Feb 2009
Jan 2009

Source: Original article with video and image on http://www.fashionoffice.org/survey/2010/karinsawetz1-2010.htm.


more fashion.at/mobile>
News from
November - December 2009
September - October 2009
July - August 2009
May - July 2009
April - May 2009
Jan - March 2009
October - December 2008