MANGO
spring/summer 2011

Scarlett Johansson as role model for 2011 fashion
In January 2011, the Spanish fashion label Mango with an extensive store chain of 1.700 shops in 100 countries worldwide presents US actress Scarlett Johansson as the role model for the new spring/summer 2011 collection. Scarlett Johansson represents a new female role that can be described as sexy, intellectual and bohemian.
On the Internet Movie Database IMDB.com, her trade mark is described as "...full lips. Wide range of hair styles and colors." This is the one side of her that has achieved her several 'Sexiest Woman' nominations by Playboy, FHM, GQ... and contracts with fashion and beauty labels like Calvin Klein perfumes, L'Oreal or Louis Vuitton. In 2009, she appeared in Marilyn Monroe style for 'Dolce & Gabbana' as the new face for the makeup line.
Scarlett Johansson's other side is the one of an actress with the behaviour in front of the camera that can be compared with Michelle Pfeiffer, Marilyn Monroe, Ingrid Bergman - and something new, which is not comparable. The actress is born 1984 in New York and began acting in 1994. Already in 1998, her talent became obvious in Robert Redford's 'The Horse Whisperer'. Roles in prominent movies followed: she played in Sophie Coppola's 'Lost in Translation', Woody Allen's 'Match Point', last year in 'Iron Man II'...
Scarlett Johansson's third 'playground' after modelling for fashion and beauty labels and acting in Hollywood movies, is music. In 2008, the Tom Waits fan has released her first album 'Anywhere I Lay My Head' with songs written by Tom Waits, David Bowie and Scarlett Johansson herself. Her voice in 'Falling Down' in duet with David Bowie remembers Nico and Lou Reed (Velvet Underground) when they are singing "She is a Femme Fatale."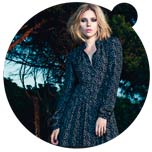 fig. original: Scarlett Johansson surrounded by a selection of pieces in simple lines and the beach colors sand and bright sunny lemon from the new Mango SS2011 collection 'Modernist Resort'.

Source: Original article with images on http://www.fashionoffice.org/collections/2011/mango1-2011.htm.


more fashion.at/mobile>
News from
December 2010
November 2010
October 2010
September 2010
August 2010
July 2010
June 2010
May 2010
April 2010
March - April 2010
January - March 2010


subscribe
terms
imprint
Sawetz (C) 2008/9/10