Media information, January 2011
FOR IMMEDIATE RELEASE

What's coming next?
Fashionoffice previews 2011

The eco-system of digital media with the three participants publishers, advertisers, users, is built upon statistical data. They are the basis for editorial decisions (search inquiries, most viewed articles) and media planning (keywords). Both have effects on the users' standard of knowledge because modern media systems (content management, search engines) deliver relevant information under these aspects. As online is a self-regulating system that functions in a response-flow, the users' choice has the most impact: if the found information is not relevant, users will search for new sources and will produce with their behaviour the statistical data for the eco-system internet – and this regardless of whether it's the intention of an online source to produce these data; because these data are keeping the eco-system 'internet' alive.

Keyword trends 2010/2011
The most used keyword/phrases on search engines that led users in December 2010 to articles on Fashionoffice was the German term 'auto', which means translated 'car'. According to the statistics by the magazine's provider Globat.com, approximately 30% of the 'keyphrases used on search engines' and 13,2% of the keywords that bring users to Fashionoffice is 'auto'. Recently, Fashionoffice's summary of the fundamental research on the construction of reality online (duration 2006-2010) with strong focus on keywords, their effects on finding information online and how the request for content is tracked by reliable servers was published in the Annual Multimedia 2011 (Walhalla Fachverlag, Berlin).
Calculated inventory by 'DoubleClick for Publishers' for February, March, April 2011
The independent and non-governmental magazine Fashionoffice offers advertising in the most common formats which are delivered by internationally trusted partners like Doubleclick, Google Adplanner and Adwords. Additionally, Fashionoffice provides statistical data by Quantcast and Google Analytics to enable marketers making their media plan decisions. New inventory data are published on fashionoffice.org/contact for the next months February, March and April.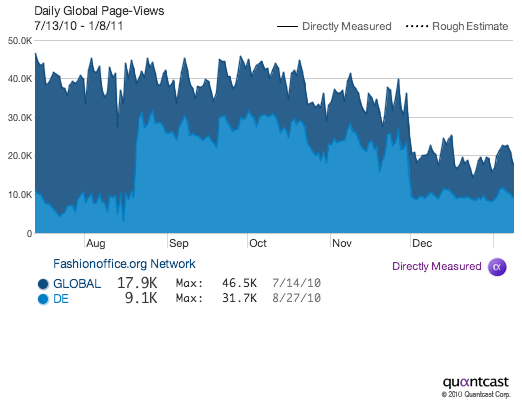 Source: Original article with graphic on http://www.fashionoffice.org/press/2011/mediainfo1-2011.htm.


more fashion.at/mobile>
News from
December 2010
November 2010
October 2010
September 2010
August 2010
July 2010
June 2010
May 2010
April 2010
March - April 2010
January - March 2010


subscribe
terms
imprint
Sawetz (C) 2008/9/10