MEN STYLE
spring/summer 2011

fashion by Bruno Banani, Ray Ban, Peak Performance, Omega
beauty by Lab Series, Wella
Extreme depths, heights and endurance
Fashionoffice was inspired by the idea of exploring the depths of water and extraterrestrial space, the heights of mountains and the endurance that is necessary for experiencing these levels.
...such as seen at Bruno Banani. The German label supports the project 'Mars 500' with 1200 underwear pieces for six astronauts from Russia, France, Italy and China. The men are simulating the journey to Mars. Since June 2010, they are living isolated from the world in a 180qm container without daylight and observed by cameras.
Especially the psychic stress in such a monotonous environment is a challenge for the men. Therefore, Bruno Banani has sent underwear in various, refreshing designs to the space laboratory.
The project 'Mars 500' is organised by the European Space Agency (ESA), the Federal Space Agency FSA, Roskosmos, the Institute for Biomedical Problems (IMBP), and the International Space Education Institute. The video by ESA Television gives an insight into the Mars-project.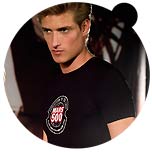 fig. original:
Man and woman in underwear by Bruno Banani, the man wears the 'Space Proof' combination of a red short and a black shirt, available from January 2011 on. Bruno Banani has sent the information about the 'Space Proof' underwear with a mission statement that follows the idea 'Extraterrestrial activities and earthly success!'.
Unisex, rounded glasses (RB 3447) by Ray Ban, SS2011. The style of these rounded glasses is one of the significant trends in the eyewear collection of Ray Ban in 2011 and refers with the small frames to 'great personalities of the past'. Ray Ban doesn't limit the reference to one selected real person or a fictional character. The rounded eyewear is a complete re-design of classical metal-frames and so the wearer won't become the 'second edition' or 'clone' of someone else.
Instant Eye Lift for men by Lab Series, presented in January 2011. The new eye cream is created upon the knowledge about 'Sirtuin' and 'survivor' genes. The cream activates the genes and increases this way the life-time of the cells. The result is an anti-age effect.
Black-grey 'Move'-jacket from the 'Active'-collection by Peak Performance, SS2011. The jacket is designed for the ones who are exploring the world around them probably on an adventure that goes over several days such as while a trekking-tour in the mountains.
The pomade 'Smooth Brilliance' by Wella Professionals, comes in February 2011 into Wella Professionals Salons.
'Seamaster Aqua Terra XXL Small Seconds' (water resistance 150m) by Omega, seen in January 2011.
Source: Original article with video and images on http://www.fashionoffice.org/collections/2011/menstyle1-2011.htm.


more fashion.at/mobile>
News from
December 2010
November 2010
October 2010
September 2010
August 2010
July 2010
June 2010
May 2010
April 2010
March - April 2010
January - March 2010


subscribe
terms
imprint
Sawetz (C) 2008/9/10