STREET STYLE
spring/summer 2011
fall/winter 2011/12

fashion by Fila, Enzo Lorenzo, Levi's, Alexander McQueen Puma, Certina
beauty by Paul Mitchell
Originals, copies, clones

There is one practice in fashion that could be described as 'cloning'. Cloning is much more than 'copying'. The cloning-method allows quasi-slipping with a copied look into the role of another person - mostly into the role of a celebrity to catch a few of the star's glitter. The practice is as old as humans; in former times, the tiger skin transferred the power and speed of the cat to the human body; today it's the adoption of styles and labels worn by celebrities, which fulfils the need to acquire qualities of an adorned person. The 'cloning'-method is favored by very young fashion users.
Then there is 'copying', which happens when people are following the guidance of fashion specialists such as when the TV channel 'access hollywood' re-styles the looks of celebs like Will Smith, Katy Perry, Renée Zellweger... with fashion pieces by Fila. These fashion guides are beloved tools to bring edgy new fashion items to the attention of a wider public. The 'copy'-method is very practically because the outfits are already 'proofed' on glossy pages of international magazines and TV-channels.
The third type of fashion users is the 'original'. The originals are characterised best as extremely self-confident and risk-friendly. Some of them are just looking cocky. But a few of the 'originals' are setting new trends.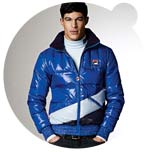 fig. original:
Down-jacket in shiny blue and black material from the Vintage Collection by Fila, FW2011/12. In 2011, the sports-fashion label Fila celebrates its 100th anniversary. The 1980s/90s inspired jacket on this page references to the heritage of the Fila label, which was founded in 1911 in Italy. The FW2011/12 Vintage Collection is a homage to the Italian Alps and après ski parties in Cortina or Bormio.
'Polo' V-neck in grey with sportive badge on the right sleeve and stitching on the front from the 'Campus'-collection by Enzo Lorenzo, FW2011/12. Photo: (C) Thomas Moeller.
Dark blue jeans 'Slouch with Cinch' from the 'California Dreaming' collection by Levi's, SS2011. Photo: (C) Andreas Achmann www.andreas-achmann.com.
'Awapuhi Styling Treatment Oil' by Paul Mitchell, comes into Paul Mitchell salons in February 2011. Photo: (C) nick@nickgillphoto.com.
Black sports shoe inspired by climbing by Alexander McQueen PUMA, SS2011.
Watch 'Certina DS Podium GMT Chronograph' in sports-classical design with black dial and three-row stainless steel bracelet, folding safety buckle, seen in January 2011.

Source: Original article with images on http://www.fashionoffice.org/collections/2011/streetstyle1-2011.htm.


more fashion.at/mobile>
News from
December 2010
November 2010
October 2010
September 2010
August 2010
July 2010
June 2010
May 2010
April 2010
March - April 2010
January - March 2010


subscribe
terms
imprint
Sawetz (C) 2008/9/10