WOMEN STYLE
spring/summer 2011
Collections inspired by a French and an American actress

In January 2011, two international fashion labels - the crystal products producer Swarovski and home-shopper La Redoute, present independently from each other for SS2011 collaborations with emerging designers who are both inspired by actresses.

Holly Fulton's dresses with Swarovski crystals are inspired by the American actress Joan Collins, while La Redoute special edition designer Cathy Pill's role model is the daughter of Jane Birkin, French actress Lou Doillon.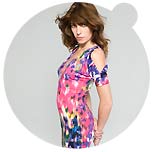 fig. original: Lou Doillon in a colorful dress with abstract, watery pattern by Cathy Pill for La Redoute, SS2011. Photographed by Lou Doillon's sister Kate Barry. (C) VISIO PRODUCTION.
Cathy Pill was inspired for the collection by actress and style-icon Lou Doillon, daughter of Jane Birkin. Lou Doillon - this year's 'Face for La Redoute', has recently played on the theatre stage in the piece 'L'image' by Samuel Beckett. Even when she appears in ad campaigns, Doillon applies an art touch to the scenery; such as seen in the video for Givenchy, where she cites nakedly a literary text. (Video: vimeo.com/9055616, find the text 'Venus' by Gérard Manset and Arman Méliès with additional English translation on bashung-in-english.blogspot.com/2010/01/venus.html).
The Belgian Cathy Pill is this season's designer at the online-shop as well as in the catalogue of French headquartered La Redoute. Cathy Pill graduated at the fashion school La Chambre in Brussels. In 2005, she released her first RTW collection and received the Andam Fashion Award.
The tradition of collections by international designers at La Redoute can be tracked back until 1969 with names like Alexis Mabille, Sonia Rykiel or Yves Saint Laurent. These seasonal special editions contain a few but easy to wear pieces. Cathy Pill has created for La Redoute SS2011 less more than 10 models with playful bright colored patterns.
Video: The Austrian headquartered crystal products producer Swarovski presents on its TV channel the SS2011 collection by London based designer Holly Fulton (graduate of the Royal College of Art) who used Swarovski crystals on her geometrical dresses. The next Holly Fulton catwalk show at the London Fashion Week is announced for 21st February 2011. On londonfashionweek.co.uk/hollyfulton you can find more details and photos of the collection which is inspired by Joan Collins, 60s chic resort fashion, wardrobe for Monaco, Egypt, Brazil, Hollywood…
Source: Original article with image and video on http://www.confashion.com/ss2011/summer1-2011.htm.


more fashion.at/mobile>
News from
December 2010
November 2010
October 2010
September 2010
August 2010
July 2010
June 2010
May 2010
April 2010
March - April 2010
January - March 2010


subscribe
terms
imprint
Sawetz (C) 2008/9/10