Media information, Oct 2009
FOR IMMEDIATE RELEASE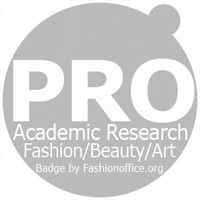 PRO Academic Research
The NPO & NGO Fashionoffice.org opens its academic research program for supporting partners.
Supporting partners of the Fashionoffice.org research initiative are exclusively allowed to use the badge 'PRO Academic Research' as a sign of being partner of independent academic research. The special campaign will raise awareness for the importance of research in fashion, beauty, and culture.
"Fashion is the most beautiful accessoriness; but is it really only an accessoriness in our life? Why does fashion become so important when it comes to gender roles, emancipation or sociological groups? What's the reason why many countries regulate clothing rules still by law?" questions Dr. Karin Sawetz, Fashionoffice.org.
Fashionoffice was founded by media and fashion scientists in 1995. The research focuses on socio-cultural themes in fashion and media by monitoring global aesthetic norms and symbols in their common versus their differentiating aspects and potentials beyond national and cultural borders.
Fashionoffice's main output of the research is published as journalistic work on Fashionoffice.org (activities of the NPO/NGO):
monitoring global trends in fashion, beauty, and culture
pro-active search and presentation of young talents in art and design
qualitative & quantitative studies about effects of media, especially online media, on trends
(Read the results of the media study The 'Memorized-Data'-hypothesis.)
The Fashionoffice research goes on
New statistics about Fashionoffice's traffic show that in October 2009 most of the fashion.at-users (approximately 40%) come from Pakistan. (Fashion.at and Fashionoffice.org are directed to the same webspace.) Compared to the data from Sept 2009 (ca. 40% from Germany and Austria), is this one of the most significant changes in the statistics. Fashionoffice tracked by the most elaborated tools online in Oct 2009.
Get more information about the magazine's history and its founders on sawetz.com.
Please don't hesitate to contact us press@fashionoffice.org or visit fashionoffice.org/press.



Media information, Fashionoffice:
Sept 2009
The attention of web users
Fashionoffice has collected traffic data delivered by Google Analytics to find out how much influence the RSS Feeds, Trendletters, online and offline advertising etc. have on the virtual consciousness of web users....
Aug 2009
The most viewed editorials on Fashionoffice in July 2009
Fashionoffice publishes the top ranking editorial pages on the magazine's main URLs through July 2009. The statistical data are delivered by Google Analytics...
July 2009
Brand building techniques by using SEO
Brand building lies in the hands of SEO specialists. Fashionoffice gives some advices how to make brands more worthy...
June 2009
New lifestyle reporter from Dubai and daily audience data
In June 2009 Fashionoffice launches the publication of daily new traffic as well as audience profile data by Quantcast on fashionoffice.org/contact and introduces the work of editor Caroline Zerrini...
May 2009
Fashionoffice update: interest-based advertising
In April 2009 Fashionoffice has updated its terms of use according to the new technologies for delivering interest-based advertising by quantifying behaviour and interests as anonymous information

April 2009
User opinion about men, personal style, internet…
On occasion of the biannual Styletrends survey, Fashionoffice asks since 2003 magazine readers to make their opinion on special themes about fashion, beauty and today's lifestyle and match their own decisions with other fashion experts...

April 2009
Where do fashion people come from to read Fashionoffice?
It became obvious that the users are reaching editorials mostly not from Fashionoffice's coversites or RSS, mobile sites...
Feb 2009
High-ranking pages on Fashionoffice
During the last six months Fashionoffice has monitored the interest of users with Google Analytics. The research on the favorite pages viewed by the users between 25 August 2008 and 25 January 2009...