Media information, May 2009
FOR IMMEDIATE RELEASE


Fashionoffice update: interest-based advertising
In April 2009 Fashionoffice has updated its terms of use according to the new technologies for delivering interest-based advertising by quantifying behaviour and interests as anonymous information

It's the first time in history that the masses are structuring a media by using a common 'brain'. This 'brain' with its 'thinking memory' defines the real nature of the internet; it is 'learning' behaviour! New internet technologies are quantifying the users' behaviour and interests as anonymous information. According to the new technologies, Fashionoffice has updated the Terms of Use: "We have contracted with third parties to monitor certain pages of our website for the purpose of reporting website traffic, statistics, advertisement 'click-throughs', information (not including your name, address, email address, or telephone number) about your visits to this and other websites in order to provide advertisements about goods and services of interest to you, and/or other activities on our website. Where authorized by us, these third parties may use cookies, web beacons, and/or other monitoring technologies to compile anonymous statistics about our website visitors. Check out Network Advertising Initiative to get more information about interest-based advertising and your choices to "Opt out" of targeted advertising delivered by NAI member ad networks."
Keywords represent users' interests
Keywords are relevant for interest-based advertising because they are representing users' interests.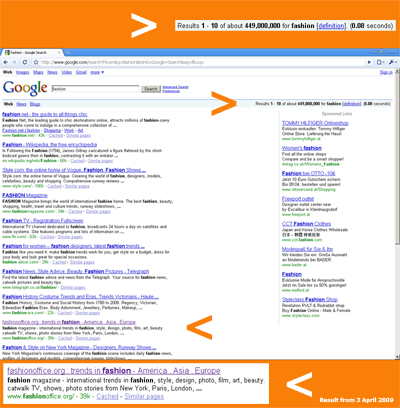 Fashionoffice's relevance in Google for the keyword 'fashion'
In 2008 Fashionoffice celebrated continued international top-relevance in the category 'fashion' since 1996. With the anniversary-search of Google.com in their oldest available index (January 2001) the magazine ranked with the "mother" of all Fashionoffice channels fashion.at on the 3rd place of about 6,840,000 results for 'fashion'. In October 2008 the magazine was still on the first page of 450,000,000 results on worldwide searches for 'fashion' in Google. In April 2009 the magazine ranked still on the first page of 450,000,000 results on worldwide searches for 'fashion' in Google. Click on the image to enlarge it! >
Keyword results by Google Analytics;
25 August 2008 - 25 January 2009
(on a third-party standard webserver; US, Globat)
fashion: Vanessa Beecroft, film noir, Burberry, Raf Simons, Zegna, (the Austrian model agency owner) Andrea Weidler, Vivienne Westwood, Silvia Troska ...
beautyme: Sergej Benedetter, Marlies Möller, Paul Mitchell.
confashion: Philipp Plein Jeans, Philipp Plein 2009 spring summer, Philipp Plein jeans снимки ...
Keywords tracked by Alexa.com; 5th May 2009
On 5th May 2009 we have checked the keywords listed on Alexa.com for selected domains of Fashionoffice:
fashion.at:
fashion
desiree stürgkh
european fashion trends
fashion europe
model sastre
current fashion trends europe
al qasimi fashion
dj boy george for triumph lingerie
vivienne westwood ss09
friseur er
fashionoffice.org:
fashion
japanisch popart polka dots
fashion office
marina spadafora
europe fashion
al qasimi fashion
film noir hair
strellson media
asian fashion magazine new york
how to do film boir hair
beautyme.com:
cbgb girls natural perfume
hennessy and buddha
roche posay hydra leger
guerlain terracotta 2008 summer makeup collection
vichy hydra leger moisturize
mello yello pua
aveda eco chic
guerlain spring 2009
guerlain homme
seduction dna
confashion.com:
confashion
the puma lydia bag by heatherette
the puma lydia bag
manish arora eyewear
manish arora tv
world fashion shows
barcelona summer fashion show foto
hm ss09 video
jiwon ree
puma moving company san francisco

Cytara is the carrier for the Trendletter by Fashionoffice
In April 2009, Fashionoffice has activated Cytara (domain cytara.com) for carrying the Trendletter and receive press releases through her mailboxes. On 20 March 2009 the address 'trendletter -at- fashionoffice.org' was set out of function and will not be activated in the near future. For journalists who are receiving the Trendletter it is important to make some changes on your side to prevent that our communication breaks up. Please check out cytara.com for details.
Learning machines and our role of designing them is the main theme of this month's Fashionoffice Insight; read it on fashionoffice.org/survey.
Get more information about the magazine's history and its founders on sawetz.com.

Media information, Fashionoffice:
April 2009
User opinion about men, personal style, internet…
On occasion of the biannual Styletrends survey, Fashionoffice asks since 2003 magazine readers to make their opinion on special themes about fashion, beauty and today's lifestyle and match their own decisions with other fashion experts...

April 2009
Where do fashion people come from to read Fashionoffice?
It became obvious that the users are reaching editorials mostly not from Fashionoffice's coversites or RSS, mobile sites...
Feb 2009
High-ranking pages on Fashionoffice
During the last six months Fashionoffice has monitored the interest of users with Google Analytics. The research on the favorite pages viewed by the users between 25 August 2008 and 25 January 2009...
Feb 2009
Fashionoffice publishes new statistical data about the circulation
From 25 August 2008 to 25 January 2009 Fashionoffice has collected new statistical data about the magazine's circulation by using Google Analytics on a third-party standard server>
Feb 2009
Keywords used by the users to reach Fashionoffice
The Google Analytics results of the keywords used by the users to reach Fashionoffice over the last six months are an indicator for the interest selected themes/labels evoke online>
Jan 2009
Media after the Media Revolution
Fashionoffice is starting 2009 with new tools for editorials and advertising>

Jan 2009
Work Space at Fashionoffice.org
Fashionoffice is seeking for fashion, beauty and culture journalists>
Dec 2008
New Tools for Publishers and Media-Planning
How Fashionoffice.org extends reach>
Dec 2008
The Trendletter, RSS and the mobile site of Fashionoffice.org
Editorial strategies>
Oct 2008
Fashionoffice.org celebrates 12 years top-relevance in 'fashion'
10th anniversary of Google and the search in the oldest available Google-index>