MAKE UP
fall/winter 2010/11
Estée Lauder by Tom Pecheux
Lancôme by Aaron De Mey
Burberry by Christopher Bailey
Colors for 2010/11 by makeup artists
In July 2010, the new makeup collections for fall had been sent. Fashionoffice looked closer at the ideas of the Creative Directors at Estée Lauder, Lancôme, Burberry and found out that even some remarks to the history of communication can be chronicled alongside to their work: from the Eiffel Tower over the 'Beauty Navigator' to Web 2.0 events on occasion of life streams.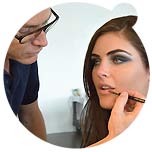 fig. original: Tom Pecheux is making the face of Estée Lauder's spokesmodel Hilary Rhoda for the 'Blue Dahlia Collection Fall 2010'-campaign. The French makeup artist is since October 2009 Creative Director of Estée Lauder.
Estée Lauder's new color vision 'Blue Dahlia Pure Color Collection' for fall 2010 was created by Creative Makeup Director Tom Pecheux. The makeup colors (electric blue and vintage violet for the eyes, pale pink and raspberry shine for lips, deep navy und iridescent lilac for the nails) premiered on the catwalk in New York at the American Western inspired collection FW2010/11 by Derek Lam. The motto of the show was 'Myth of the West'.
Tom Pecheux, who has worked already with renowned photographers like Mario Testino, Patrick Demarchelier, or Inez Van Lamsweerde, and writes regularly for Vogue and Vanity Fair, was before he became Creative Director at Estée Lauder in 2009, Creative Director for Shiseido. During that time he developed not only makeup lines but even experimental online products such as the interactive 'Beauty Navigator' in 2001.
Video: Tom Pecheux' makeup colors (electric blue and vintage violet for the eyes, pale pink and raspberry shine for lips, deep navy und iridescent lilac for the nails) for Estée Lauder premiered on Derek Lam's catwalk. The motto of the show was 'Myth of the West'. In February 2010, the New York Magazine nymag.com posted the backstage report by Harriet Mays Powell about Derek Lam FW 2010/11. You can hear the NY based designer (born 1967 in San Francisco, graduated at the Parsons School of Design, additionally Create Director for Ready-To-Wear and accessories at Tod's) speaking about his urban cowgirl inspired collection.
Lancôme's Creative Director Aaron De Mey's 'French Coquettes' are inspired by the feminist women of the years between 1870 and 1920. From the Belle Époque to the Golden 20ies, the women expressed their new freedom with modern fashion such as shorter and more comfortable dresses made of knitwear or floating material, and uncomplicated hair styles.
For Aaron De Mey, the fashion of makeup is influenced by culture as a whole such as the new social status of women who became emancipated members of society at that time, over modern art which became more abstract and provoked with Surrealism, to the urban concepts of cities like Paris where the Métro opened during the 'Exposition Universelle' in 1900 and Gustave Eiffel's metallic construction which was used as gigantic antenna for transatlantic communication and early radio broadcasting.
fig. original: 'French Coquettes' in the colors noir Macadam and urban silver on the eyes (inspired by the architecure of Paris in the early 20th century), with nude tones and a touch of cherry on the lips and nails (expresses the courage of these women) by Aaron De Mey for Lancôme. Aaron De Mey chooses three women who express the experimental-friendly style of the 'Coquettes' best: Man Ray's muse, model and artist Kiki de Montparnasse, French actress Sarah Bernhardt who had her own theatre ensemble (which was rare at that times), and the US novelist Edith Wharton. Aaron De Mey is born in New Zealand, moved in 1998 to New York. Since 2009, he is Lancôme's Artistic Director for makeup. Photo: (C) Hondodigital für Lancôme.
In a video about a photo shooting for Vogue Paris, Aaron De Mey speaks about French Vogue, which he likes because the magazine presents female beauty without dictate but with humour.


Chief Creative Officer Christopher Bailey created for Burberry the label's first beauty line which accomplishes the clothing style's British understatement. It premiered in early July at Harrods in London, comes to Germany in October and will be exclusively available at Galeries Lafayette.
British designer Christopher Bailey is responsible for all products of Burberry as well as architectural design or media strategies in advertising and multi-media content. The designer has received already several awards - at last in 2010 the International Award, Council of Fashion Designers of America (CFDA), and is a pioneer using Web 2.0 on occasion of catwalk shows. Find out more on the Fashionoffice article 'Stage Design' from July 2010.
fig. original: Christopher Bailey says about the new Burberry beauty line: "Burberry Beauty is an effortless, natural extension of the Burberry world and every detail is designed in that mindset. It is the complete complement and expression of the Burberry girl."
Fashionoffice has found a nice video about how to style the face with Burberry: London based Lisa Eldridge has already worked with international photographers David Sims and Corrine Day, fashion magazines such as Italian Vogue, Allure, The Face, etc., and celebrities like Cameron Diaz, Cate Blanchet, Selma Hayek, to name a few. The makeup artist publishes a video showing how to style the face with products from the new Burberry beauty line. What makes her video so nice is her seriousness and exactness. Lisa Eldridge begins with the introduction of the products, explains their packaging and colors while wearing no make up - only her pale face. And then she starts to use the products and changes the look of her face!

Source: Original article with images and video on http://www.beautyme.com/cosmetics/2010/makeup7-2010.htm.


more fashion.at/mobile>
News from
June 2010
May 2010
April 2010
March - April 2010
January - March 2010
December 2009 - January 2010
December 2009
November - December 2009
September - October 2009
July - August 2009
May - July 2009
April - May 2009
Jan - March 2009
October - December 2008


subscribe
terms
imprint
Sawetz (C) 2008/9/10