Makeup & Fashion
fall/winter 2010/11
Makeup, fashion and sport
On 21 July 2010, Y-3, the collaborative label of Yohji Yamamoto and adidas, has sent information about the new campaign for the fall/winter 2010/11 collection with a prominent name for makeup in the credits: Gucci Westman, former Lancôme art director, since 2008 artistic director of Revlon.
The video in monochrome black/white is a poetic story with a lot of abstractions: the flying bird stands not only for freedom and wide horizon but also for the football players' ball, and the swinging net is the abstraction for the goal; the pier stands for wide horizon and distance, etc.
The faces are styled in a monochrome way too; they show no individual accents. That brings an additional distance into the dreamful scenery where the role of the players seems to change into the viewer and back again.
The video is like a short theory about football.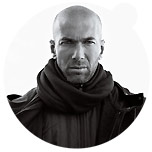 fig.: Zinedine Zidane in the Y-3 FW2010/11 campaign.
Video: Campaign-video for the Y-3 fall/winter 2010/11 collection; since July 2010 in stores worldwide. "Recently the trend has been for tighter and shorter and sexier clothes, I wanted to wrap the body again, and not show too much." Yohji Yamamoto 2010.
The artful swinging net abstracts the idea of the football players' goal. French athlete Zinedine Zidane is once again in the main role of the campaign for Yohji Yamamoto's and adidas' collaborative collection Y-3. The video was shot at the Hudson River Park in New York and introduces the collection with impressions of the goal, the team, freedom, a wide horizon and distance.
Creative Direction: Lloyd & Co.
Still Photography: Alasdair McLellan
Cinematography: Theo Stanley / New Mountain
Editing: Frederic Taxi
Styling: Nicola Formichetti
Music: David Salom
Hair & Make-Up: Didier Malige & Gucci Westman
Location: Pier 54, Hudson River Park – New York City
Video: 'Meet Gucci Westman', posted in November 2008. Gucci Westman, since April 2008 global artistic director of Revlon, and former International Artistic Director of Lancôme (2003 - 2008) speaks about her work.

Source: Original article with videos on http://www.beautyme.com/cosmetics/2010/makeupfashion7-2010.htm.


more fashion.at/mobile>
News from
June 2010
May 2010
April 2010
March - April 2010
January - March 2010
December 2009 - January 2010
December 2009
November - December 2009
September - October 2009
July - August 2009
May - July 2009
April - May 2009
Jan - March 2009
October - December 2008


subscribe
terms
imprint
Sawetz (C) 2008/9/10