MOTOR HISTORY
spring/summer 2010

Vienna Insight by publisher Karin Sawetz, May 2010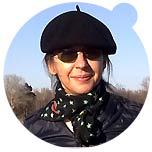 fig.: Karin Sawetz is journalist, media researcher and fashion scientist (Mag. Dr. phil.). sawetz.com


Family style

The blog post 'Tailored Outerwear, Vintage Photo Contest' at Scott Schuman's 'The Sartorialist' from 2nd May 2010 inspired me for this special Vienna Insight into motor history like I have found in my family's photo books. The post at 'The Sartorialist' opens with a picture showing three men in the 1930s on the street. One of the men is the grandpa of the poster.
So I looked through my family photos and found one of my grandma sitting on a Puch S4. The photo was taken in the early 30s - between 1930 and 1935. I like this picture - especially because of the beret, which is called in Vienna 'Basque cap' and is one of my favorite own cap styles.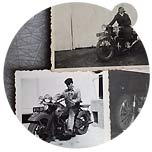 fig.: original

The first picture on this page shows my father in 1956 on a Harley Davidson 750 (construction date 1942). The pictures on the bottom are from the year 1952; left, my father on a Harley Davidson (construction date 1949) and the right image shows him working on a Panther.

You can see that not only motorcycles, even the Basque cap-style is characteristically for my family. Recently, Fashionoffice styled up some articles with vintage touch:

Source: Original article with images on http://www.fashionoffice.org/motor/2010/motorhistory5-2010.htm.


more fashion.at/mobile>
News from
March - April 2010
January - March 2010
December 2009 - January 2010
December 2009
November - December 2009
September - October 2009
July - August 2009
May - July 2009
April - May 2009
Jan - March 2009
October - December 2008


subscribe
terms
imprint
Sawetz (C) 2008/9/10