Pamela Love for Sebastian
spring/summer 2010
This girl needs no wings to fly!
In summer 2010, Brooklyn NY based underground jewellery designer Pamela Love is the muse for US label Sebastian. The photo on this page shows her in a rocking biker style with a 'Zero Gravity'-hairstyle and a bottle of one of the hair sprays she has illustrated with a mystical symbol for Sebastian on occasion of the 25th anniversary of the Shaper Hair Spray.
Pamela Love is a shooting star in the New York fashion scene. For the FW2009/10 collection of Zac Posen, the designer and Pamela Love worked closely together and combined clothing with punky-victorian belts and cuffs.

Video: The glossy Elle Magazine-video from October 2009 shows her styled up together with New York designer Zac Posen for a shooting on occasion of the collaboration between the two creative heads. In the video, Pamela Love and Zac Posen are speaking about their designs and how they met on the street.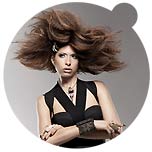 fig. original: Shaper Zero Gravity with the mystical cross illustration by Pamela Love is one of three product packages which are created by the jewellery designer on occasion of the 25 years anniversary of Sebastian's product line 'Shaper Hair Spray'; in 1985 it was the first hair spray that could be combed out. The black bottles with Egyptian ethno applications are limited editions. On the photo, she is dressed in a rocker-biker style with a 'Zero Gravity' hair style. She looks as if she needs no wings to fly!
The jewellery designer is inspired by historical and contemporary knowledge from the Middle Ages, the culture of Mexico, science & magic, the Old Egypt, or nature.
Pamela Love believes that her preferences for skulls and other bones come from her youth as the daughter of an orthopaedist who had always a lot of skeletons and prosthesis at home.
She loves bizarre materials like nails or stings and makes objects like crow skulls, animal teethes, or claws.
Pamela Love never leaves her house without her 'Lucky Rabbit' ankle chain.
The video (posted on Vimeo in May 2010) is a very personal interview from Stylelikeu.com with Pamela Love - whose style icon is Bob Dylan, showing her in comfortable grungy fashion. The interview was published in the directory 'Closets' of 'Stylelikeu', an online gallery for behind the scene reports from personal spaces of creative minds. Stylelikeu writes: "Pamela's jewelry resonates with a kind of shamanic thinking that drives her to spend the majority of her time "uncontrollably" making it."

Source: Original article with images and video on http://www.beautyme.com/hair/2010/sebastian7-2010.htm.


more fashion.at/mobile>
News from
June 2010
May 2010
April 2010
March - April 2010
January - March 2010
December 2009 - January 2010
December 2009
November - December 2009
September - October 2009
July - August 2009
May - July 2009
April - May 2009
Jan - March 2009
October - December 2008


subscribe
terms
imprint
Sawetz (C) 2008/9/10