MOUNTAIN MARINE
spring/summer 2010
AUSTRIA INSIGHT by publisher Karin Sawetz August 2010
Karin Sawetz is journalist, media researcher and fashion scientist (Mag. Dr. phil.).

fashion by Mazbani, Heartblood, Luis Trenker, 7 For All Mankind, Vaude
Joyride in Austria
On 1st August 2010, I have discovered the number/letters combination 'O5S' on the ground of a lake in Austria; you can see it on the second photo on this page.
On this sunny Sunday in August, I made a joyride with my Mercedes sportscar. Every joyride needs a proforma destination; I have chosen the 'Green Lake' in Styria nearby the mountain Hochschwab; you can see the location on the 'original' photo of this article.
When I arrived at the mountain jewel, no one was swimming. I asked a woman who was sitting at the border: "Why are only dogs in the water." She explained that it's so cold that only divers are using the lake. (I have found an amateur video on YouTube about a dive-trip in the 'Green Lake' which has 6° to 8° Celsius.)
On the second photo, you can see the 'Green Lake' captured from above. On my walking tour around, I have found the number/letters combination: 'O5S'. 'O5' stands for 'Oe'sterreich - which means Austria, 'O' is the first letter of the country name and '5' replaces 'e' which is the 5th letter in the alphabet. It was the sign of the Austrian resistance against the Nazis during the Second World War. German Wikipedia reports about '05' that the sign is visible in the canal scene of the movie 'The Third Man' showing the Viennese police pursuing Harry Lime (played by Orson Welles). On the photo below, you can see beneath 'O5' the letter 'S'; probably it stands for 'S'tyria.
The ride in my sportscar back to Vienna was accompanied by great music from the radio such as the song 'Ferienzeit' by the German actress and singer Hildegard Knef from 1971; she has sung it in English too: 'Holiday Time'.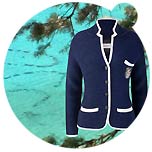 fig. original: clockwise, beginning with the...
Bracelet with a flower jewel in lilac-rosé and green leaves by the Viennese jeweler Mazbani, SS2010.
Green t-shirt in glamour-rock style with the decorative saying 'Wild Heart' by the Austrian label 'Heartblood', SS2010. Photo: (C) Heartblood. In the Austrian alps in Tyrol (Zillertal at Fügen) based designer Sabine Haun has founded her label in 2008. She uses for her shirts certified 'Organic Cotton' and decorates them with crystals and rivets. The motto of Heartblood is 'Glamour meets Streetstyle'.
Knit jacket 'Bergmarine' (means 'Mountain marine') by Luis Trenker, FW2010/11. Photo: (C) Luis Trenker. The jacket is a modern interpretation of the classical 'Sarner Jangger' ('Sarner jacket') from people who live in the Sarntal in South-Tyrol.
Dark vintage denim cut off short by '7 For All Mankind', seen at roomwithaview.at in SS2010.
Footwear 'Big Al Ceplex Low' for approaching mountains by Vaude, SS2010.


Source: Original article with images and videos on http://www.fashionoffice.org/collections/2010/mountainmarine8-2010.htm.


more fashion.at/mobile>
News from
July 2010
June 2010
May 2010
April 2010
March - April 2010
January - March 2010
December 2009 - January 2010
December 2009
November - December 2009
September - October 2009
July - August 2009
May - July 2009
April - May 2009
Jan - March 2009
October - December 2008


subscribe
terms
imprint
Sawetz (C) 2008/9/10