POP STYLE
spring/summer 2010
fall/winter 2010/11
interior by Gorenje
fashion by Kipling, Zimtstern, Adidas
bike by Puma
beauty by Ralph Lauren
Flashy, funky, disco, pop
In August 2010, Fashionoffice has searched through the information that was sent for editorial consideration and noticed one strong trend: flashy, funky, disco, pop colors in the kitchen, on bags, shoes, fragrance bottles and bikes.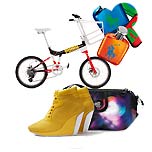 fig. original: Funky freezer from the Retro Collection by Gorenje, 2010. The designers' idea was to create old looking, high-tech refrigerators in colors inspired from international catwalks. The retro raspberry-pink freezer is one of the pieces that will be presented at the trade fair for consumer electronics, household technology and telecommunication 'Futura 2010' from 16 to 19 September 2010 in Salzburg, Austria. The label with headquarter in Slovenia focuses on modern design and innovative technology for home appliances. Gorenje has created freezers, oven, and other kitchen essentials together with prominent names from the design industry such as the Italian studio Pininfarina (best known from automobile design of Maserati, Ferrari, Fiat, Peugeot, Jaguar, etc.), the French designer Ora-Ito (Louis Vuitton, Swatch, Apple, Levi's... to name a few of his clients), and the New York based 'color-king' Karim Rashid (Alessi, Prada, Miyake...). The new line 'Gorenje designed by Karim Rashid' will be presented at 'Futura 2010' in Salzburg.
'Dalia' discoball with magic colorization from the 'Crazy G*rilla Girlz' line by the Belgian label Kipling, FW2010/11.
Men fragrance 'Big Pony' by Ralph Lauren, SS2010. The four different scents come in four different bright colored bottles. Each has a number which is illustrated in pop-style in complementary color onto it. The 4 bottles stand for the different characteristics (adventurous, seductive, sportive, stylish) of 4 players of a polo team.
'Greedy Nylon' tote bag in the pastel pink color 'post-it' by Zimtstern, SS2010. Zimtstern advices to use it for various situations, not only for shopping.
Urban mobility bike 'Pico' in funky orange, white, black and yellow by Puma, SS2010. Photo: (C) Luke Perkins. Puma presents four models which are named after islands in the Atlantic Ocean. Pico Island is an island in the Central Group of the Portuguese Azores. The grocery bag is an additional feature. The bike is available in foldable (for the tube or the car) or not foldable design.
Yellow fashion wedges by Adidas, FW2010/11.

Source: Original article with images on http://www.fashionoffice.org/interior/2010/popstyle8-2010.htm.


more fashion.at/mobile>
News from
July 2010
June 2010
May 2010
April 2010
March - April 2010
January - March 2010
December 2009 - January 2010
December 2009
November - December 2009
September - October 2009
July - August 2009
May - July 2009
April - May 2009
Jan - March 2009
October - December 2008


subscribe
terms
imprint
Sawetz (C) 2008/9/10