STREET STYLE
fall/winter 2010/11
fashion by Diesel, Zimtstern, Stussy Deluxe x Palladium
motor by Honda, Gocycle

Urban electricity, artisanal denim...

In August 2010, Fashionoffice has searched for the contemporary sportive-urban style and found out that it is made of the egocentricity of art/design-lovers with a touch eco-friendliness.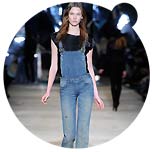 fig. original:
Jumpsuits and black leather t-shirt for women by Diesel Black Gold, FW2010/11.
Diesel combines in this collection the idea that handcraft, experiments and industrial production methods can work perfectly together. The materials of this collection are practical denim combined with rock'n'roll spirited leather, as well as sexy velvet graphical flower applications on transparent-nude tulle. "Materials are layered or contrasted to express women's complexity. Leather is combined with soft and artisanal denim in slim dresses and jumpsuits while velvet is covered with tulle to create delicate metropolitan looks."
Leather jacket 'Diamond' in black from the 'Street' collection by the snowboard rider outfitter Zimtstern, FW2010/11. The label works since two years with Bluesign certified manufacturers. The Bluesign standard was developed in 1997 for easy implementation into the production-chain of the textile industry - from the raw material, over retailers, brands to consumers. It is in the meanwhile a popular and trusted sign - especially in Europe, and stands for the protection of human health and the environment.

Zimtstern lists some keywords for the new women's collection: "...Charismatic, Deluxe, Eco, Functional, Great, High-end..." to name a few.
'Beta' knit beanie in black by Zimtstern, FW2010/11.
EV-neo electric scooter by Honda, FW2010/11. Honda plans to start the sale in December 2010 in Japan.

EV-neo's brushless motor provides a performance which is equivalent to under-50cc gasoline engine motorcycles. Honda held EV-neo's world premiere at the 41st Tokyo Motor Show in 2009 under the key words 'quiet and clean'.
Gocycle, seen in FW2010/11. The bicycle with on-demand electric power from a battery is another example for urban mobility with zero CO2 emission.
The Gocycle has received already several awards in 2008 and 2009. It is a real lightweight (16,2 kg) for an electro-bike (up to 29 km/h speed). Gocycle is designed for city biking and for the transport in the tube or the car.
The London based label Gocycle was founded in 2002 by former McLaren cars design engineer Richard Thorpe.
Boots 'Stussy Deluxe x Palladium Pampa Mid', FW2010/11; the limited edition comes out on 18 September 2010.
The Pampa Mid shoes on this page are the collaborative work of the California streetwear label Stussy Deluxe and the French desert boot company Palladium. The Pampa Mid is the new version of the classical 60 years old Palladium Pampa boots. The classical Pampa boots' height is reduced to create the 'Mid' look of typical California surf- and skate-footwear.

Source: Original article with images on http://www.fashion.at/motor/2010/streetstyle8-2010.htm.


more fashion.at/mobile>
News from
July 2010
June 2010
May 2010
April 2010
March - April 2010
January - March 2010
December 2009 - January 2010
December 2009
November - December 2009
September - October 2009
July - August 2009
May - July 2009
April - May 2009
Jan - March 2009
October - December 2008


subscribe
terms
imprint
Sawetz (C) 2008/9/10