STREET STYLE
fall/winter 2010/11
fashion by Haglöfs, BMW Mini, G-Star, Paloma Picasso for Tiffany, Urban Tool, Philipp Plein
beauty by Alberta Ferretti, Clinique
Self Control
'Control', 'go your own way', 'individualisation' are keywords and mottos that can be found in the accompanying texts of the new collections. The contemporary lifestyle is motivated from the wish to live 'uniqueness', to be authentic. This is even expressed in clothing styles.
Video: 'Self Control' by the British singer 'Sunday Girl' (aka Jade Williams), released on 2 August 2010. The song is the new interpretation of the 80ies hit by singer Laura Branigan. In this video, the 'Sunday Girl' (aka Jade Williams) wears a dress from the 'Philosophy di Alberta Ferretti' FW2010/11 collection. In March 2010, the observer has entitled an article about the young musician, DJ, illustrator and blogger with 'One to watch: Sunday Girl' and cites her: "I like things to be simple. My look is 'scruffy Chanel' because I love Coco Chanel's style, plain and masculine. It's a nice contrast to my music, which I want to feel like a wall of beautiful sound." On her website wearesundaygirl.com, the Sunday Girl writes about fashion, music, art, life.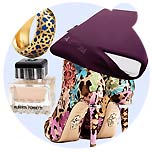 fig. original:
Alberta Ferretti fragrance for women; FW2010/11. The Italian designer Alberta Ferretti is known for her red carpet creations. She is the designer of the main line Alberta Ferretti and Philosophy di Alberta Ferretti. In 2009, Alberta Ferretti released her first perfume in Italy; in 2010, the label steps out worldwide (Germany in September 2010). Alberta Ferretti developed the scent from the imagination of a woman: keywords are 'style, elegance, authenticity', and 'sensual, warm-hearted, open-minded'. For the realisation of the floral-wooden fragrance, Alberta Ferretti worked together with perfumer Sophie Labbé (IFF).
'Superbalanced Powder Makeup SPF 15' by Clinique, comes in 8 different colors into shops in fall 2010. The powder is upgraded with antioxidants like vitamin C and E.
'YoYo (Q) Hood' made of Polartec Power Stretch in ivory color from the women's collection by Haglöfs, FW2010/11. Photo: Haglöfs. The minimalistic design shows a seamless shoulder. This way, the pullover is a comfortable mid-layer between jacket and shirt on cold days.
Ladies' Frontwoman Jacket from the textile collection by the car label BMW Mini, released in August 2010. Photo: (C) BMW AG. The adjustable jacket can be worn in two different ways: as a sportive streetjacket (without the collar) or an elegant blazer.
The collection pays tribute to 'Cool Britannia' and combines rebellion with tradition. The designers focused on the individualisation of clothing like rockers, mods and punks practised already in former times and applied Union Jack, badges and pins on jackets, sweaters, shirts.
BMW Mini calls it a fashion road trip through UK style. The motto of BMW Mini is 'Go your own way'.
'Low-T skinny' denim in elegant style for women by G-Star, FW2010/11. Photo: (C) G-Star International b.v.
The Low-T pieces are inspired by the style of actress and model Liv Tyler. One of the important keywords of this line is 'controlled'. G-Star developed for this season a collection that spans from 'hardcore street-wear' to 'high-end tailored sophistication'. The label states that the selection of various denim pieces: "... gives women the opportunity to build a unique personal wardrobe...".
Marrakesh Blue Enamel Ring in 18 Karat Gold by Paloma Picasso for Tiffany, FW2010/11. Photo: (C) Tiffany & Co. In 2010, Paloma Picasso celebrates 30 years (since 1980) designing for Tiffany. The new collection is inspired by the Islamic grid patterns on tiles which are typical for the North African city Marrakesh.
'SlySkin' neopren (lining velvet) sleeve in berry for notebook, iPad, laptop in the sizes 11', 13', 15' by Urban Tool, FW 2010/11.
Flowerish ankle boots by Philipp Plein, FW2010/11. This season, Philipp Plein's new accessories line of bags, shoes, belts and knit accessories debuts. The pieces are inspired by the lifestyle in cities like Monte Carlo, Saint Tropez, Vienna, Moscow, Dubai or Las Vegas.


Source: Original article with images and video on http://www.confashion.com/fw2010/streetstyle8-2010.htm.


more fashion.at/mobile>
News from
July 2010
June 2010
May 2010
April 2010
March - April 2010
January - March 2010
December 2009 - January 2010
December 2009
November - December 2009
September - October 2009
July - August 2009
May - July 2009
April - May 2009
Jan - March 2009
October - December 2008


subscribe
terms
imprint
Sawetz (C) 2008/9/10