WOMEN on JOURNEY
fall/winter 2010/11

fashion by Tiger of Sweden, Frankie's Garage, Aubade
beauty by Clinique, Juvena


Unpredictable Vagabonds


Fashionoffice has collected some pieces for the 'Unpredictable Vagabond'-style for women who prefer to be prepared for any new situations.
And sometimes they even have no other choice if they don't follow predetermined ways...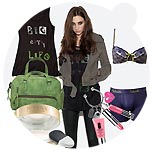 fig. original:
The woman is totally dressed in Tiger of Sweden, FW2010/11.
Tank-top in black with the writing 'Big City Life' by Tiger of Sweden, FW2010/11. Photo: (C) Bsmart.
The label was founded by Markus Schwarmann in 1903. He began his business with a horse wagon and brought fashion to farmers and city people (video about the history of the label). Today, Tiger of Sweden produces men's and women's wear. Since 2000, the label has an own jeans line.
The press information about the FW2010/11 pieces begin with the words "Eclectic vagabonds...". The collection is a combination of looks and follows one leading idea: be unpredictable. Old and new, well-loved and future favorites, colorful and muted, luxurious and simple.
'Ladies Business Bag' from the 'Park Avenue Collection' by Frankie's Garage, FW2010/11. The FW2010/11 collection is a homage to the 'Big Apple' and the Park Avenue which runs alongside the Central Park in Manhattan. Frankie's Garage premiered in 1985 with a messenger bag that revived the myth of New York's bicycle couriers. The bag appeared in magazines like Vogue, Andy Warhol's Interview and became cult. The label stopped its production in the late 80s. Since 2008, Frankie's Garage bags are available again.
Bra with check and floral lace combined with a boxer short in checked blueberry (the boxers are originally for men), both are from the collection 'La Dame De Flandres' by Aubade, FW2010/11. Photo: (C) Aubade.
Key ring with 3 pink colored lip tools (Long Last Glosswear SPF 15, Superbalm Moisturizing Gloss, and Different Lipstick) by Clinique from the Estée Lauder Pink Ribbon Collection FW2010. In 1992, Estée Lauder has founded the Breast Cancer Awareness campaign. With the purchase of products from the Pink Ribbon collection, the company supports the Breast Cancer Research Foundation and provides information about breast cancer to women in 70 countries.
'On the move cream' by Juvena, FW2010/11; comes out in September 2010. The cream in its box with the brush looks like a powder - it acts similar and can even be used similar to a powder the whole day through repeatedly. It is made of Juvena SkinNova SC Technology with skin-rebuilding effects against wrinkles and is mixed with ingredients which equalize light and shadows like powder for a smoother look of the skin. In a test by Fashionoffice, the cream feels powdery-creamy while the face gets silky-matt. It is announced that it can also be used above make-up; probably the 'On the move cream' conceals quite good without make-up - but this has to be decided by every woman individually.

Source: Original article with images on http://www.fashionoffice.org/collections/2010/vagabonde8-2010.htm.


more fashion.at/mobile>
News from
July 2010
June 2010
May 2010
April 2010
March - April 2010
January - March 2010
December 2009 - January 2010
December 2009
November - December 2009
September - October 2009
July - August 2009
May - July 2009
April - May 2009
Jan - March 2009
October - December 2008


subscribe
terms
imprint
Sawetz (C) 2008/9/10