VIENNA INSIGHT by publisher Karin Sawetz
September 2010
Karin Sawetz is journalist, media researcher and fashion scientist (Mag. Dr. phil.).
Surprised by an artwork on a wall
In September 2010, I was on my way to one of my favorite walking destinations at the Alberner Hafen in Simmering, Vienna, when I saw an artwork by the Italian wall painter BLU on an old silo.
I searched on the net for more information about the art work and found out that it was painted by BLU on occasion of the BLK River Festival 2010, which presents from 10 September to 6 October 2010 street and urban art installations and films on various venues along the Danube Canal. The Danube Canal runs through the city of Vienna. On 19 Sept, the Film Night opens; on 25 Sept, a biketour leads to all festival locations... blkriver.at.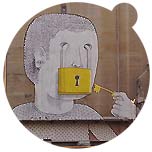 fig. original: Wall painting by the Italian street artist and animation film director BLU on a cereal silo at the Alberner Hafen in Simmering, Vienna; photo taken on 9 September 2010.

The cereal silos at the docs of the Blue Danube were built in the late 1930s. Today, they are out of order. BLU has painted an image of a man whose eyes and mouth are locked up. In one hand, the painted man is holding the key to unclose the padlock.
Festival director and curator Sydney Ogidan (born and raised in Vienna) answered to the question why he has named the festival 'BLK River': "When you grow up in Vienna and people talk about the Danube River they call it the Blue Danube. They sing songs about the blue Danube and there is the famous Danube waltz, that all stands for tradition, nationalism and highculture. But the river originates in the black forest in Germany and runs all the way through the Balkan to the Ukraine into the Black Sea. That's why the Danube's real name is Black River. And also, because black is not just a physical event, but historically also stands for qualities such as "radicalness" and otherness."
Video: The animated street art movie 'Big Bang Big Boom' (2010) is directed by BLU himself; soundtrack by Andrea Martignoni. On the website of the production company ARTSH.it, the video is described as "an unscientific point of view on the beginning and evolution of life ... and how it could probably end."

Source: Original article with image and video on http://www.fashionoffice.org/culture/2010/albernerhafen9-2010.htm.


more fashion.at/mobile>
News from
August 2010
July 2010
June 2010
May 2010
April 2010
March - April 2010
January - March 2010
December 2009 - January 2010
December 2009
November - December 2009
September - October 2009
July - August 2009
May - July 2009
April - May 2009
Jan - March 2009
October - December 2008


subscribe
terms
imprint
Sawetz (C) 2008/9/10