CONCEPT KOREA
spring/summer 2011
The diversity of Korean fashion in New York
On 9 September 2010, three Korean designers - Kwak Hyun Joo, Juyoung and Lee Jean Youn, presented their very diverse SS2011 collections under the title 'Concept Korea' at the Mercedes-Benz Fashion Week New York. The title 'Concept Korea' comes from the Korean Ministry of Culture, Sports and Tourism, which is the supporter of the show. The three designers are since several years internationally active and present their labels on catwalks in Barcelona, Las Vegas, Paris, Seoul, Milano... And they are following three different design ideas: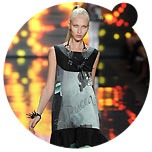 fig. original: 'Pucca by Kwak Hyun Joo' at 'Concept Korea' on 9 September 2010 at Lincoln Center during Mercedes-Benz Fashion Week New York. Photo: Frazer Harrison/Getty Images for Mercedes-Benz; (C) 2010 Getty Images.

Kwak Hyun Joo has selected for her collection the animated cartoon 'Pucca' (represents a 10 year old girl) as inspiring source. On www.conceptkorea.org, an article of 'The Korean Times' from August 2010 gives information about the designer's intention: "Under the idea of 'Mad Kiss', the collection tells the story of young Pucca who, influenced by the tale of Snow White, longs to find a boy who will kiss her, driving her to desperate measures."
The dark-gothic men's wear comes from 'Resurrection by Juyoung'. The designer has studied at Parsons School of Design, collaborated with musicians like Marilyn Manson on the wardrobes for 'Eat me drink me' and lifestyle labels like BMW mini for the Art Bag Project,. .. to name a few of her activities.
The elegant draped couture dresses and classical tailored suits for women are created by 'Lee Jean Youn'. The Mango Fashion Award (2009) winner Lee Jean Youn presented his collections in 2010 additionally in Paris and Barcelona.
Video: 'Concept Korea' SS2011 on 9 September 2010 at the Mercedes-Benz Fashion Week New York (9-16 Sept).

Source: Original article with image and video on http://www.confashion.com/ss2011/conceptcorea9-2010.htm.


more fashion.at/mobile>
News from
August 2010
July 2010
June 2010
May 2010
April 2010
March - April 2010
January - March 2010
December 2009 - January 2010
December 2009
November - December 2009
September - October 2009
July - August 2009
May - July 2009
April - May 2009
Jan - March 2009
October - December 2008


subscribe
terms
imprint
Sawetz (C) 2008/9/10