HUGO BOSS
fall/winter 2010/11

Celebrities from sport
Celebrities are the classical role models. Some celebrities are selling an image to fulfil what the public seeks for - like doing nothing and become celebrated, and some celebrities do something what's really worth to follow.
In September 2010, the German label Hugo Boss presents a new collection for the football club FC Bayern. The pieces - you can see the dark blue jackets, night grey colored trousers, blue and red striped ties with blue-white checked shirts on team members on this page, will be available on www.hugoboss-store.de.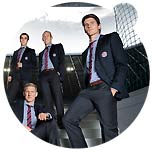 fig.: original
Since 2005, Hugo Boss works with the FC Bayern team for its campaigns and puts some of the athletes into the spotlight like Mario Gomez; you can see him on the photo standing right and in the making of video for the Hugo Boss fragrance. Recently, the sport addicted energy drink label Red Bull presented in a Red Bull TV documentary insights into the life of Mario Gomez, who is probably one of the German football players with the greatest star light effects in 2010.

Video: Formula 1 drivers Lewis Hamilton and Jenson Button answer Facebook users' questions, speak about the football world cup 2010 and their driving season 2010. The talk between the two racing car drivers is a Hugo Boss TV production, posted in March 2010.
Since the late 60ies, Formula 1 drivers, their wives and friends became popular role models. From 3 to 26 Sept 2010, the exhibition 'The first pop star of Formula 1' at the gallery Westlicht in Vienna memorizes the Austrian Jochen Rindt. In September 2010, Servus TV published a documentary about Jochen Rindt.

Source: Original article with image and video on http://www.fashionoffice.org/collections/2010/hugoboss9-2010.htm.


more fashion.at/mobile>
News from
August 2010
July 2010
June 2010
May 2010
April 2010
March - April 2010
January - March 2010
December 2009 - January 2010
December 2009
November - December 2009
September - October 2009
July - August 2009
May - July 2009
April - May 2009
Jan - March 2009
October - December 2008


subscribe
terms
imprint
Sawetz (C) 2008/9/10