MEN STYLE
fall/winter 2010/11
spring/summer 2011

fashion by Pioneer, Otto Kern, Vaude, Longines, Burberry
beauty by Gillette, 3Lab
Men of tomorrow
In September 2010, Fashionoffice has searched through the press material to find out if there exists in men's style an expression for living nowadays in times of high-technology, nature-friendliness and in a society that can be tracked by numbers - if IP-addresses by surfing through the net or the mobile phone number.
By collecting the pieces and reading through the press releases of fashion and beauty labels, one key thought seems to underlie sustainable forward-thinkers, responsible minded future-technicians and the acceptance that people are constantly tracked: the consciousness that the volatile presence from just now, is in the next moment already stable history.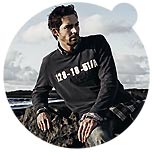 fig. original:
Men dressed in jeans, checked shirt and roundneck pullover by Pioneer, FW2010/11.
Pioneer was founded 1977 in times of hippies-disco-punk as a provider for bourgeois-classical fashion. The signature products are numbered jeans. The number is a combination of season, model and colour code.
"The new millennium brought new challenges: by now, jeans were accepted even by the upscale establishment, but a more modern society with a higher demographic age, but "younger" ways of thinking..." writes Pioneer on its website.
Pioneer belongs to the Ahlers fashion group which manufactures for brands like Baldessarini, Pierre Cardin, Otto Kern, etc.
Hooded jacket in nautical blue by Otto Kern, SS2011.
Grounder Ceplex footwear in urban outdoor style by Vaude, FW2010/11. Footwear from the Grounder Ceplex line is available in versions for women and men. Vaude is known for its investments into environmental friendly manufacturing and products. It is member of the bluesign standard, is audited for EMAS (Eco-Management and Audit Scheme) and the ISO14001 environmental standards.
Lindberghs Atlantic Voyage Watch by Longines, FW2010/11.
iPad cover in chocolate by Burberry, FW2010/11.
3 Piece Gillette Mach3 Shaving Set made from wood and chrome, seen at fabstuff.net, FW2010/11.

Perfect repair by 3Lab, seen in FW2010/11. The perfect repair serum on this page contains an anti-oxidants mix of grapeseed extract, Vitamin B3 and C. 3Lab develops high-tech beauty products such a skin care with bio-engineered growth hormone and apple stem cell technology.

Source: Original article with images on http://www.fashionoffice.org/collections/2010/menstyle9-2010.htm.


more fashion.at/mobile>
News from
August 2010
July 2010
June 2010
May 2010
April 2010
March - April 2010
January - March 2010
December 2009 - January 2010
December 2009
November - December 2009
September - October 2009
July - August 2009
May - July 2009
April - May 2009
Jan - March 2009
October - December 2008


subscribe
terms
imprint
Sawetz (C) 2008/9/10