MICHEL COMTE
for
Campari Calendar 2011
The First Man Ever!
Celebrity photographer Michel Comte captures Campari's first man.
On 20 September 2010, the Italian (aperitif) label Campari announced that the new Campari Calendar 2011, shot by fashion photographer Michel Comte, will feature for the first time a man in the starring role. The Campari man will follow in this role actresses like Salma Hayek, Eva Mendes or Jessica Alba. The title of the calendar is 'The Red Affair'.
The man (an actor?) will be uncovered at the presentation of the Campari Calendar 2011 on 21 October in Milan.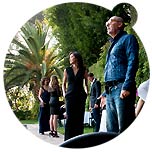 fig. original: Michel Comte, photographer of the Campari Calendar 2011 'The Red Affair', behind the scenes. Photo: (C) Cesare Cicardini.
Michel Comte (born 1954 in Switzerland) works editorially for Vanity Fair, GQ, Interview, Vogue.. and is the portraitist of celebrities like Karl Lagerfeld, Sophia Coppola, Iggy Pop, Catherine Deneuve, Louise Bourgeoise, Miles Davis... to name a few from the website www.michelcomte.org. Additionally, Michel Comte photographed for the International Red Cross in war zones and unstable areas in Iraq, Afghanistan and Bosnia.
Video: Documentary about Michel Comte by Institut für Kunstdokumentation und Szenografie Düsseldorf, directed by Ralph Goertz (2009); the full-length movie is available on www.nrw-forum.de/shop/.

Source: Original article with image and video on http://fashionoffice.org/culture/2010/michelcomte9-2010.htm.


more fashion.at/mobile>
News from
August 2010
July 2010
June 2010
May 2010
April 2010
March - April 2010
January - March 2010
December 2009 - January 2010
December 2009
November - December 2009
September - October 2009
July - August 2009
May - July 2009
April - May 2009
Jan - March 2009
October - December 2008


subscribe
terms
imprint
Sawetz (C) 2008/9/10