MQ VIENNA FASHION WEEK.10
presented by Vöslauer
22 - 26 September 2010
Women of tomorrow
From 22 to 26 September 2010, the city of Vienna becomes again the meeting point for national and international designers at the MuseumsQuartier (MQ). Fashionoffice looked through the program and at selected collections; especially ep_anoui's women's collection 'A Promising Tomorrow'.
On the website mqviennafashionweek.com, designers from various countries like Hungary, Germany, Romania, Netherlands, Thailand... are listed. The Spanish design label Agatha Ruiz de la Prada opens the fashion week on 22 September. The label became internationally renowned - even at non-fashion addicted groups - when 'Borat' Sacha Baron Cohen as Bruno appeared on her catwalk during the Milan Fashion Week in September 2008 youtube.com/watch?v=1fWsiz7sIcg.
Thang de Hoo, one of Vienna's most important designers, opens as the first Austrian the fashion week on 22 September.

Titles and content of selected collections by Austrian designers
The Viennese design duo Liniert announces the presentation of 'Tactical Clothing' with suits for city-bicyclists; Callisti (Vienna) names her collection 'Zuccabars Concubine Part II' with the key-design 'Scandalous Ripped Style'; probably even a form of tactical clothing.
The Carinthian Gina Drewes contributes her collection to female Samurais who go their own ways but don't want to miss the man on the side.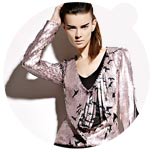 fig.: 'A Promising Tomorrow' by [ep_anoui] FW2010/11. Photo: Markus Thums; postproduktion: Julia Spicker; make up/hair: Alice Retzl.
Fashionoffice has interviewed ep_anoui designer Eva Poleschinski (born in Graz, Styria) about the title of the FW2010/11 collection and the shirt with birds like you can see on this page.
The title of the collection is inspired by the designer's view on the development of a woman which is motivated by her desired future. The idea of 'freedom' is central in this collection. It finds its expression in slots and birds like on the shirt.
At the MQ Vienna Fashion Week, Eva Poleschinski will present her ep_anoui SS2011 collection.


Source: Original article with images on http://www.fashionoffice.org/design/2010/viennafashionweek9-2010.htm.


more fashion.at/mobile>
News from
August 2010
July 2010
June 2010
May 2010
April 2010
March - April 2010
January - March 2010
December 2009 - January 2010
December 2009
November - December 2009
September - October 2009
July - August 2009
May - July 2009
April - May 2009
Jan - March 2009
October - December 2008


subscribe
terms
imprint
Sawetz (C) 2008/9/10