Women Style
fall/winter 2010/11
spring/summer 2011
fashion by Diesel Black Gold, Silhouette, Aubade, Diesel
beauty by MAC Cosmetics
lifestyle by Candy Doc, Gregor Eichinger for J. & L. Lobmeyr
About love and magic

In September 2010, Fashionoffice has collected some pieces that tell the story about love to leather jeans, frogs & magic tools and ends with medic-a-like pills and a 'Deep Space'-drinking glass...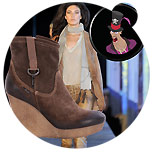 fig. original beginning with the woman on the catwalk:
Jacket, trousers, shirt, scarf, boots by Diesel Black Gold, SS2011. Diesel calls the collection with the 'Calamity Jane' nostalgic touch a 'Love Letter' to America's West Coast. California's art, crafts and rock music inspired the sun burned, desert and earthy colored (leather) pieces. (Video: Diesel Black Gold SS2011 on 13 September 2010 during Mercedes-Benz New York Fashion Week.)
'Dreamwings' sun glasses in apricot by Silhouette, 2010. Photo: (C) Silhouette.
Ankle-boots by Diesel, FW2010/11.
Magical Liquid Powder in the tone 'Truth & Light' and below a pocket mirror from the Dr. Facilier line by MAC Cosmetics, limited to October 2010. MAC has collaborated with Disney and created make up collections inspired by the 'bad' characters of kid's tales. Dr. Facilier is the perfidious character from the tale 'The Princess and the Frog'. Who needs a frog if there is 'bad guy' Dr. Facilier! (Video: Animators and directors about Dr. Facilier.)
'Saint Tropez' brief in terracotta from the 'Jeux d'image' collection by Aubade, FW2010/11. The drawing of the lace is inspired by architectural decorations from the Middle-Ages.
'Candy Doc' filled with frogs labelled 'open in an emergency', seen in September 2010 at the new Viennese shop candydoc.com.
'Deep Space' crystal glass with a black color covering such as used in architecture. The dark, mystical drink vessel is designed by the Austrian architect Gregor Eichinger for glass producer J. & L. Lobmeyr. 'Deep Space' premiered in mid-September 2010. Photo: Klaus Fritsch.

Source: Original article with images and video on http://confashion.com/ss2011/womenstyle9-2010.htm.


more fashion.at/mobile>
News from
August 2010
July 2010
June 2010
May 2010
April 2010
March - April 2010
January - March 2010
December 2009 - January 2010
December 2009
November - December 2009
September - October 2009
July - August 2009
May - July 2009
April - May 2009
Jan - March 2009
October - December 2008


subscribe
terms
imprint
Sawetz (C) 2008/9/10