Fashionoffice tracked by the most elaborated tools online in Dec 2009

Sources of the statistical data: Google Analytics, Quantcast, Alexa (compare the rankings May, Aug, Sept, Oct, Nov, and Dec)
Date: 30 December 2009

Result: On 30 December 2009, the traffic stats on Alexa.com show once again strong differing distribution data to the month before. Germany, the United States, Austria, or the UK are not listed by Alexa; Indonesia is with 17% the country where most of the users come from on fashion.at, Turkey the most represented country with 12% on fashionoffice.org.

The difference between Alexa and Google Analytics or Quantcast: Alexa is measuring the data on Alexa toolbars and collects them from diverse traffic data sources. Therefore, Alexa is a good mean to control the usage of a website in addition to Quantcast or Google Analytics which are both measuring the traffic with tags that are installed on Fashionoffice's webpages. For example: the abuse on domain level (contrary to a hacked server) can not be pursued by analyzing server data because domain abuse does not happen on the server itself.

There are many possible explanations for the results concerning traffic sources (Indonesia, Turkey). As CERT has assured in Nov 2009, there is no reason to be alerted - such as in the case of the expanded traffic from Pakistan which grew in Oct 2009 suddenly to 40%, as long as the domains of Fashionoffice show no significant reports on Google Analytics; the server delivers data obviously very consistent (data delivery in Dec 2009). Fashionoffice shows on Quantcast no changes in the country reports.

Fashionoffice's last alert: On 30 October 2009, Alexa.com has tracked that most of the fashion.at-users (approximately 40%) come from Pakistan. (Fashion.at and Fashionoffice.org are directed to the same webspace.) Compared to the data from 30 Sept 2009 (ca. 40% from Germany and Austria), was this a significant change in the statistics. The high ranking of Pakistan in Alexa started in mid October 2009. The significant expansion of user traffic from Pakistan on the domain fashion.at was reported as suspected domain abuse on 30 October 2009 to Globat.com (Hosting Provider), Nic.at (Austrian Registry), and CERT.at (Computer Emergency Response Team Austria). On 3rd Nov, the Austrian CERT has affirmed that the technical premises for the measurements are reliable. The domain fashion.at was free of abuse.

CERT mentioned some reasons for the domain's popularity boom during October 2009 in Pakistan:
In Pakistan are many price dumping textile manufacturers who are on the search for inspiration and models for re-cutting. High traffic from Indonesia and Vietnam would fit to this assumption, argued CERT.
Probably other fashion sites have been censored in Pakistan.
Or, another popular media has referred to fashion.at.
Probably one page has become so popular that it was sent by email.
Important note: From the start (early 2006) and through the years of monitoring traffic and its effects on rankings in search engines by using measurements of third-parties (Google, MSN, Alexa…), Fashionoffice has checked constantly together with official authorities for internet security and administration the reliability of the data delivered by the server of Fashionoffice.org.
Google Analytics: the most viewed pages in July 2009, Aug 2009, Sept 2009, Oct 2009, Nov 2009, Dec 2009, and in the 12 months of 2009
Alexa.com
(compare the Alexa ranking from May 2009, Aug 2009 with the most viewed pages in July, Aug, Sept, Oct)
Note: The URL Fashionoffice.org and fashion.at are directed to the same webspace.
Alexa.com about 'Traffic Rank': "The traffic rank is based on three months of aggregated historical traffic data from millions of Alexa Toolbar users and data obtained from other, diverse traffic data sources, and is a combined measure of page views and users (reach)." Source: www.alexa.com/help/traffic_learn_more
On 30 Dec 2009, Germany, the United States, Austria, or the UK are not listed by Alexa; Indonesia is with 17% the country where most of the users come from on fashion.at.
30 Dec 2009
30 Nov 2009
30 Oct 2009
30 Sept 2009

17.0% Indonesia
82.7% OTHER

20.2% Germany
10.2% United States
8.0% United Kingdom
61.8% OTHER

27.4%

Germany

14.1%

Austria

11.7%

United States

2.4%

France

43.9%

OTHER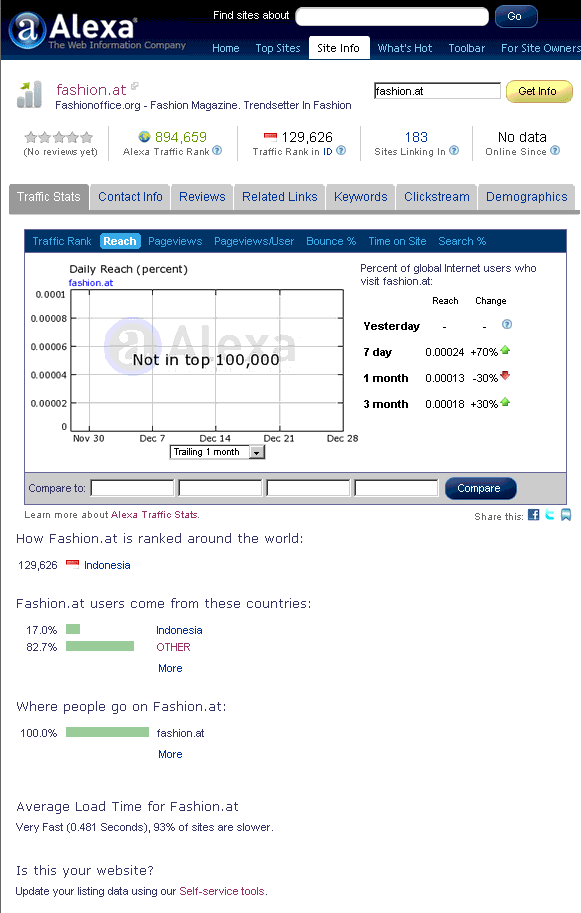 On 30 Dec 2009, Turkey is with 12% the country where most of the users on the URL fashionoffice.org come from.
30 Dec 2009
30 Nov 2009
30 Oct 2009
30 Sept 2009

38.5% United States
25.6% India
36.2% OTHER

35.0%

United States

15.0%

United Kingdom

50.0%

OTHER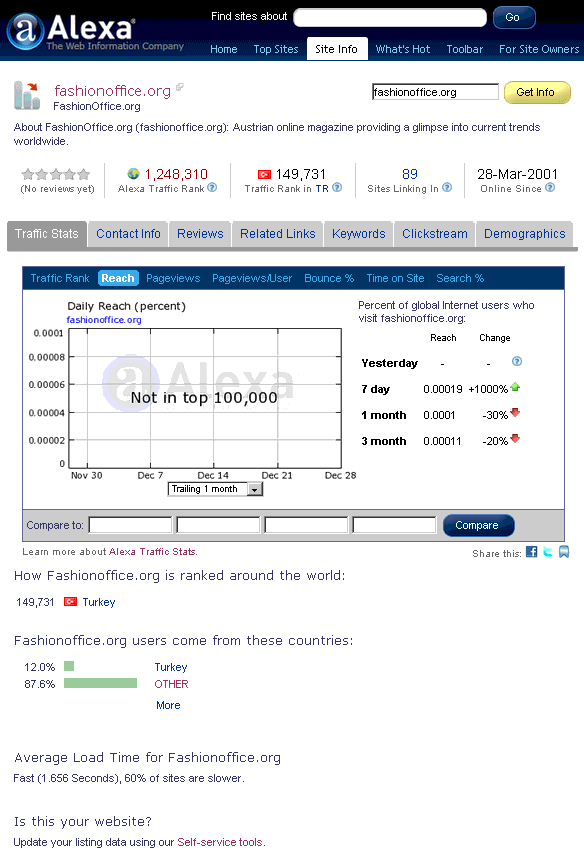 KEYWORDS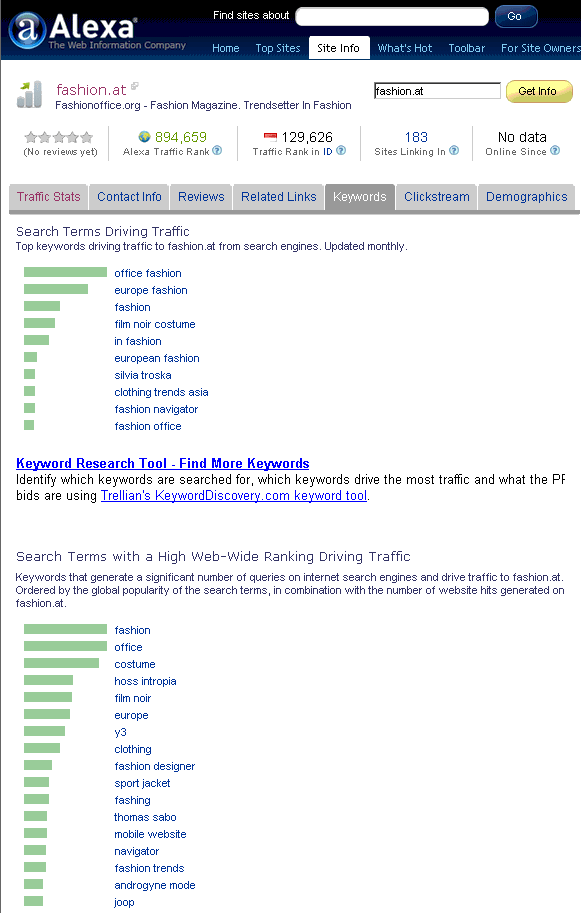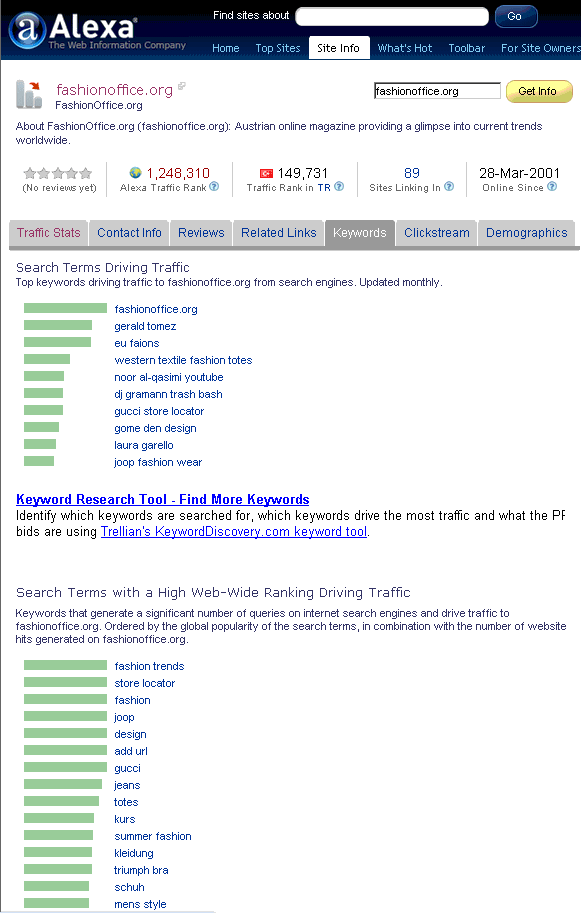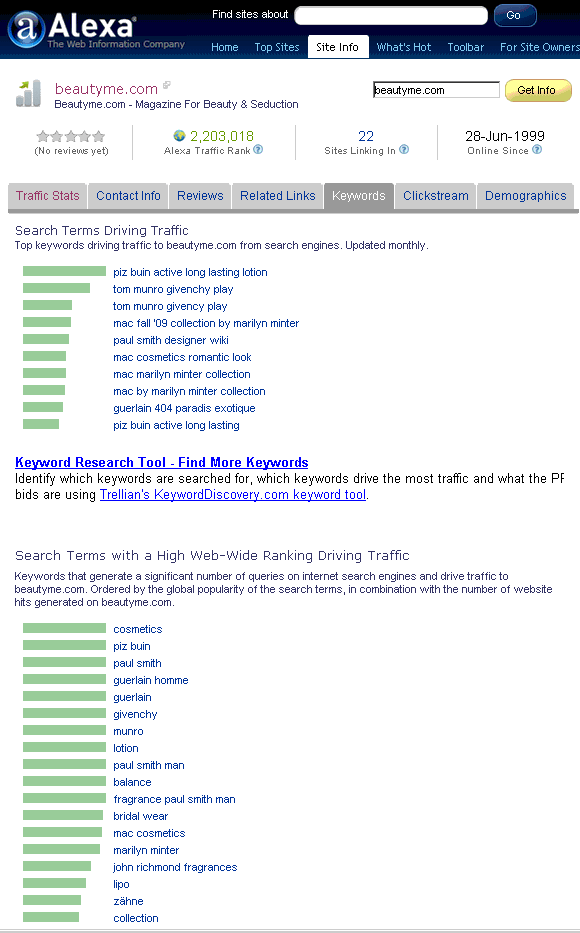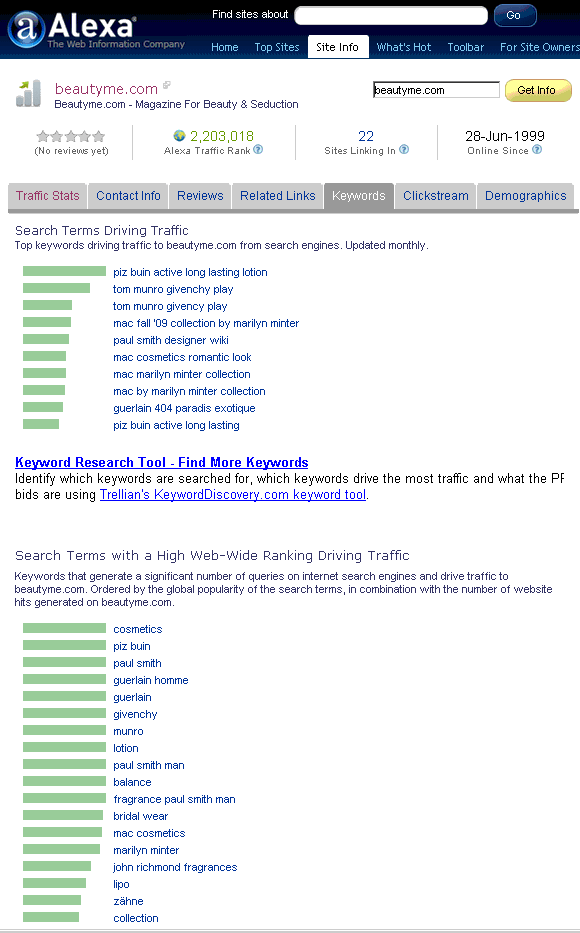 Quantcast.com tracks the inventory pages of Fashionoffice:
Inventory (impressions of 728x90, 120x600, 300x250, 200x200, 120x240, 120x90)*
*Data are measured on the ad pages of Fashionoffice.org and its special channels (fashion.at, beautyme.com, confashion.com, FashionAvigator.com, styleradar.com, beautyradar.com) only. Not all content pages are carrying inventory. The inventories of the Fashion Feeds or the Mobile Site are not included. The eMail-Trendletter has no inventory slots.
| Country | Uniques % |
| --- | --- |
| United States | 23.27 |
| Germany | 7.62 |
| Austria | 6.42 |
| United Kingdom | 5.78 |
| Korea, Republic of | 4.90 |
| Canada | 2.77 |
| Netherlands | 2.36 |
| Italy | 2.35 |
| China | 2.19 |
| India | 2.08 |
| Australia | 2.07 |
| France | 2.03 |
| Brazil | 1.45 |
| Russian Federation | 1.40 |
| Thailand | 1.34 |
| Turkey | 1.33 |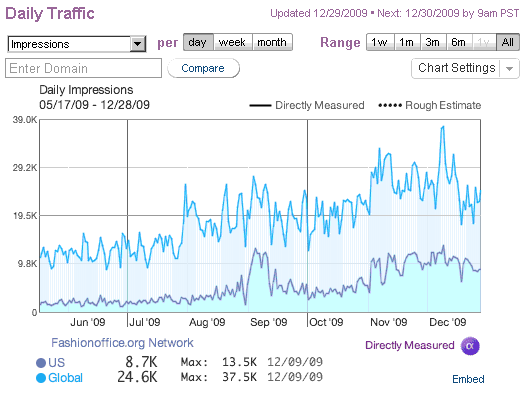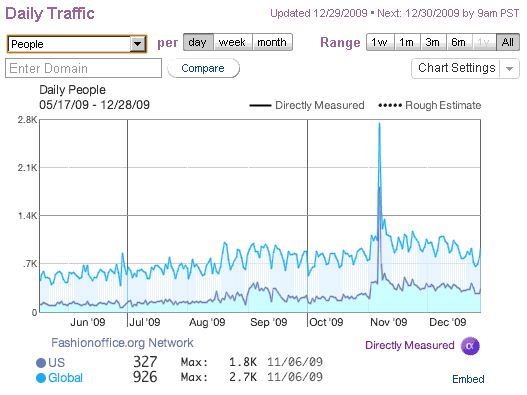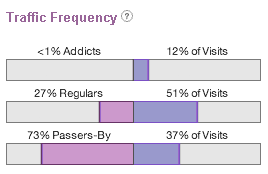 FASHIONOFFICE INSIGHT:

Jan 2010

Dec 2009
Nov 2009
Oct 2009
Sept 2009
Aug 2009
July 2009
June 2009
May 2009
Apr 2009
Mar 2009
Feb 2009
Jan 2009