CARLOS AIRES
19 November 2010 - 15 January 2011
Mario Mauroner Contemporary Art, Vienna (Austria)
Art made of Vinyl records and Google search
On 19 November 2010, the gallery Mario Mauroner in Vienna invites to the opening of the exhibition 'Golden Tears' presenting works by the Antwerp and Málaga based artist Carlos Aires (born 1974 in Spain). The mass media inspired social critical wall objects by Carlos Aires are made of Vinyl records.

For the exhibition at Mario Mauroner, Carlos Aires has surfaced his works with gold as a symbol of the two poles - earthly and spiritual power, where society is living in. Carlos Aires focuses on reality, how it can be perceived and how reality can be suggested.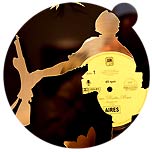 fig. original: Vinyl object from the 'Love is in the Air' series by Carlos Aires presented at the 'Golden Tears' exhibition at the gallery Mario Mauroner in Vienna, 2010/11 (19 Nov 2010 - 15 Jan 2011). Carlos Aires about his work: "'Love is in the Air' deals with the dark side of our daily melodrama: the same finger that switches off the computer screen on which you have just watched horrible images of a war, afterwards rings the bell of a private nightclub."
The work series 'Love is in the Air' centers around the media critical theme that catastrophes are loosing their brutality in the new surrounding of mass media. On his website, Carlos Aires describes one of the 'Love is in the Air' Vinyl records-wall objects: "All the silhouettes are part of photographs found on line, using the search web Google and writing the word 'catastrophy'. These silhouettes are part of photographs founded. One of the most important aspects of the piece are the titles of the vinyl records, always related with the silhouette."

Source: Original article with images on http://www.fashionoffice.org/culture/2010/carlosaires10-2010.htm.


more fashion.at/mobile>
News from
September 2010
August 2010
July 2010
June 2010
May 2010
April 2010
March - April 2010
January - March 2010
December 2009 - January 2010
December 2009
November - December 2009
September - October 2009
July - August 2009
May - July 2009
April - May 2009
Jan - March 2009
October - December 2008


subscribe
terms
imprint
Sawetz (C) 2008/9/10