EVENING STYLE
fall/winter 2010/11

fashion by Burberry, Aubade, Patrizia Pepe
beauty by MAC Cosmetics, Kilian
interior by Thomas Kirchgrabner & Nin Prantner
Dinner for two
October is a great month! The windy sunshine is changing in these days into stormy rain. By the end of the month, all the weather's fogginess culminates into Halloween. It's the season for typical evening activities with a touch of a special 'darkness'.
Fashionoffice followed the idea of a 'romantic dinner for two' on windy autumn days and collected some pieces for such an occasion.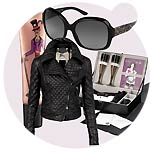 fig. original:
Lip gelée 'Resort Life' from the Dr.Facilier line of the 'Venomous Villains' collection by MAC Cosmetics, limited to October 2010. Dr. Facilier is the perfidious character from the Disney's 'The Princess and the Frog'; Dr. Facilier has the best song in this movie! (Video trailer: Dr. Facilier performs the song 'Friends on the other side'.)
Black sunglasses with metal spikes on the frame and black biker jacket from the 'Winter Storms' collection by Burberry, FW2010/11. The collection premiered in October with a video on YouTube with the music 'Stormy Weather' from the British band 'The Kooks'.
'Love and Tears' women's perfume from the 'L'Oeuvre noire' collection by Kilian, seen in FW2010/11. For the 'L'Oeuvre noire' collection, Kilian Hennessy was inspired by Goethe's Faust, Shakespeare's witches in Macbeth and mixed the magic of former times with the vibration of urban violence and seduction like R'n'B musicians 50 Cent or Snoop Dogg are singing about.
'Boxer' from the loungewear line and 'Rendez-vous'-box by Aubade, FW2010/11; photos: (C) Aubade. The box storages romantic dinner tools like an apron for her and one for him, an erotic cookery book, Champaign flutes, invitation cards...
'Mercury Flash' table lamp created by the Austrian fashion designer Thomas Kirchgrabner in close collaboration with furniture designer Nin Prantner, premiered in September 2010. Photo: Klaus Fritsch.
Boot wedges by Patrizia Pepe, seen at the Patrizia Pepe flagship store in Vienna in FW2010/11.

Source: Original article with image and video on http://www.fashionoffice.org/collections/2010/eveningstyle10-2010.htm.


more fashion.at/mobile>
News from
September 2010
August 2010
July 2010
June 2010
May 2010
April 2010
March - April 2010
January - March 2010
December 2009 - January 2010
December 2009
November - December 2009
September - October 2009
July - August 2009
May - July 2009
April - May 2009
Jan - March 2009
October - December 2008


subscribe
terms
imprint
Sawetz (C) 2008/9/10