MEN STYLE
fall/winter 2010/11

fashion by Roeckl, Omega, Dirk Bikkembergs
lifestyle by DeLonghi, Rainer Mutsch, Christian Bezdeka
beauty by Kilian, Biotherm
Men style
At the beginning of the colorful colder days in autumn 2010, Fashionoffice has collected some pieces that reflect an elegant sportive men style.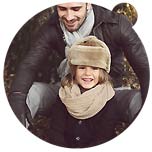 fig. original:
Man with cashmere scarf and mocca colored sportive gloves; junior wears a lambskin cap in saddlebrown, loop-scarf in beige, and ash-grey gloves by Roeckl, FW2010/11.

Roeckl's collection FW2010/11 is dedicated to the 'gentleman' who is described as an 'individualists, urban adventurer and well-dressed'.
Roeckl states about the junior collection: "Most children know exactly how they want to look. Often just like mum and dad. So it's a good thing that the accessories
of the Junior Collection complement the Adults' Collections perfectly."
'Esam 04.350.S Magnificia Pronto Cappuccino' by DeLonghi, seen in FW2010. 'S' stands for small. DeLonghi presents in autumn 2010 new coffee machines in a practical size.
Omega Aqua Terra XXL Small Seconds ST, release date FW2010/11.
The antique-modern silver travel spray by Kilian is created especially for Christmas season 2010; the limited edition comes in November into selected shops.
High Recharge Energy Shot by Biotherm. Photo: (C) Biotherm. Available since early October 2010.
Looks like an energy-drink; the idea is similar. Biotherm has filled the small bottle with an anti fatigue-mixture of ginseng (activates the micro circulation), vitamin B and E, minerals and pure Thermal Plankton.
Ankle boot with hole in the heel from the 'B-side' collection by Dirk Bikkembergs, FW2010/11. The Belgian designer Dirk Bikkembergs has created the first shoes with shoelace-hole in the heel in the early 1990s. Now, Bikkembergs releases the 'B-Side'-collection with re-editions from the 90s.
'Dune' outdoor seat designed by Rainer Mutsch and produced by Eternit; will be available in spring 2011. Photo: (C) Studio Rainer Mutsch, 2010. The 'Dune' seating furniture for public spaces has already received the Red Dot Award. In October, it will travel to the Vienna Design Week 2010, where it is on show on 10 October.
Kid's bicycle 'Woom' designed and produced by Christian Bezdeka, 2010. Photo: (C) Christian Bezdeka / WOOM. The 'Woom' bike will be presented at the exhibition '2000-2010 Design in Wien' from 7 October 2010 to 9 January 2011 at the Wien Museum Karlsplatz.

Source: Original article with images on http://www.fashionoffice.org/collections/2010/menstyle10-2010.htm.


more fashion.at/mobile>
News from
September 2010
August 2010
July 2010
June 2010
May 2010
April 2010
March - April 2010
January - March 2010
December 2009 - January 2010
December 2009
November - December 2009
September - October 2009
July - August 2009
May - July 2009
April - May 2009
Jan - March 2009
October - December 2008


subscribe
terms
imprint
Sawetz (C) 2008/9/10