MEN STYLE
fall/winter 2010/11

fashion by Levi's, G-Star
beauty by Susanne Kaufmann, Creed
cuisine by Zotter
museum view at the Natural History Museum, Vienna

The sweet things in life
or
Men's anatomy

In September 2010, Fashionoffice has collected some pieces around the theme 'The sweet things in life' and combined them with the idea of 'vanitas' and the limited lifetime of humans.

Some pieces on this page are referring directly to the transience of life; such as the t-shirt with the skeletons and saying 'The Anatomy of Human Destructiveness', the skulls from a Viennese anatomy, or the men's fragrance that follows the idea that living at the boundaries means living between life and death.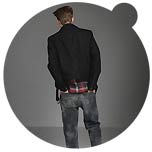 fig. original:
Skulls at the anatomy of the Natural History Museum in Vienna; photo taken in September 2010. In this museum, the collection of humans begins earliest when the exhibits are more than one hundred years dead.
Men dressed in 'Wool Biker' jacket, 'Radical Rebel' shirt, and 501 Jeans; all pieces from the Levi's FW2010/11 collection.
Red-blue checked 'Radical Rebel' shirt and blue 'Experiment' t-shirt with the writing "Experiments - The Anatomy of Human Destructiveness" by Levi's, FW2010/11.
Carrotts ball, raspberry truffle, hazelnut nougat from the Biofekt collection by Zotter; seen FW2010/11. Photo: H. Lehmann. The sweet pieces are created eco-consciously and fair in the own Zotter manufacture in Styria (Austria). The Biofekt collection consist of 60 different sweet models which can be packed individually into a bonbonniere.
Ankle boot by G-Star, FW2010/11.
'Aventus' eau de parfum for men by Creed, in shops since September 2010. The word 'Aventus" is a free creation from Latin and can be thought as 'rising', to 'reach something', to 'jump over', and can be translated with the word 'success'. The bottle shows a man riding wild on a horse.
On some internet pages, the description of the scent refers to the places where Napoleon lived like blackcurrant from Corsica or bergamot from Italy. Fashionoffice has tested the scent; but how to describe this elegant perfume best? Try this: imagine fruity notes in very discreet tones from adventures in mystical woods.
But the scent transports another - metaphysical - idea too: it's about being between the worlds of life and death; a consequence for men who are going over boundaries.
'Linie M' men's cosmetics by Susanne Kaufmann; seen in FW2010/11. Susanne Kaufmann 'organic treats' composed from wild herbs and organic plants from the Bregenzerwald in the Austrian Alps. The line for men is especially created for men's skin after the shave.

Source: Original article with images on http://www.fashionoffice.org/collections/2010/menstyle9-2010b.htm.


more fashion.at/mobile>
News from
September 2010
August 2010
July 2010
June 2010
May 2010
April 2010
March - April 2010
January - March 2010
December 2009 - January 2010
December 2009
November - December 2009
September - October 2009
July - August 2009
May - July 2009
April - May 2009
Jan - March 2009
October - December 2008


subscribe
terms
imprint
Sawetz (C) 2008/9/10