SMASHBOX
fall/winter 2010/11
Changing roles!
In October 2010, one of Europe's most influential perfume and cosmetic retailers Marionnaud (headquartered in France) has sent information about the 'Masquerade' collection by US label 'Smashbox' with focus on the theme 'transforming'.

Marionnaud introduces the new products for cheeks, eyes, lips with the words 'explore the transformative make up collection...'. The products are inspired by ideas around fantasy of illusion, mysteries, and desire. They are developed from the angle of behind the camera.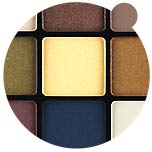 fig. original: Eye shadows from the 'Masquerade' collection by Smashbox, FW2010/11; available in selected Marionnaud shops.
The collection 'Masquerade' fits perfectly to Central Europe's season of festive cocktails, balls and various events around 'Carnival', which begins each year on 11 November. Carnival is a traditional ritual which enables people to slip into the role of someone else.
In the same month as Marionnaud announces Smashbox' 'Masquerade' collection, the US label presents on its website another 'role-changing' motive which happens in a Hollywood movie with Christina Aguilera playing a woman who changes from a waitress into a revue-star. The movie comes out on 'Thanksgiving', which is celebrated this year on 25 November in US (4th Thursday in November).
Video: Trailer for the new movie 'Burlesque' (2010). The film is about a woman who comes to Los Angeles and starts working in a revue-club. Here she discovers her dancing talent. With Christina Aguilera and Cher in the starring roles, directed by Steven Antin; comes out on 25 November 2010 in US. Smashbox provided the make up for the movie. You can find beauty advice to transform into one of the movie's looks on the label's website smashbox.com/Burlesque-Beauty-Collection-Video.

Source: Original article with image and video on http://www.beautyme.com/cosmetics/2010/smashbox10-2010.htm.


more fashion.at/mobile>
News from
September 2010
August 2010
July 2010
June 2010
May 2010
April 2010
March - April 2010
January - March 2010
December 2009 - January 2010
December 2009
November - December 2009
September - October 2009
July - August 2009
May - July 2009
April - May 2009
Jan - March 2009
October - December 2008


subscribe
terms
imprint
Sawetz (C) 2008/9/10