SNOW STYLE
fall/winter 2010/11
beauty by Clinique
toy by Lego
fashion by Carrera, Burberry, G-Star, Zimtstern
cuisine by Römerquelle
Woman in snow ... with a kid.
In mid-October 2010, Fashionoffice has received already a lot of press material that shows pieces for the colder days and entertainment tools for kids. The fashion, beauty and lifestyle goods on this page are available in stores - most of them worldwide.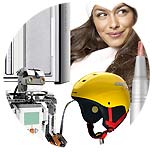 fig. original:
The woman's face is styled with the snowy-silver eye shadow 'CS Super Shimmer Platinum', black mascara, and the protecting 'Vitamin C Lip Smoothie Nude Tricious' lip color by Clinique, compilation for Winter Makeup 2010.
Mindstorms NXT 2.0 Roboter by Lego, seen in FW2010/11; recommended for girls and boys (10 years up), who prefer to build and programm their toys individually.
The Lego toy includes wireless Bluetooth that can connect with others like the new Android App 'Minddroid', which enables the user to direct the robot with the mobile phone. In mid-October 2010, the new application was launched. Find details and the source code on Lego's website.
Kid ski-helmet 'Yellow Comic' by Carrera, FW2010/11.
Black bag from the 'Winter Storms' collection by Burberry, FW2010/11.
Black high-heel boots by G-Star, FW2010/11.
Limited edition 'plum and cinnamon' mineral water by Römerquelle, comes into Austrian stores in mid-October 2010.
Hoodie and gloves made of black fleece with white stars print by Zimtstern, FW2010/11.

Source: Original article with images on http://www.beautyme.com/cosmetics/2010/snowstyle10-2010.htm.


more fashion.at/mobile>
News from
September 2010
August 2010
July 2010
June 2010
May 2010
April 2010
March - April 2010
January - March 2010
December 2009 - January 2010
December 2009
November - December 2009
September - October 2009
July - August 2009
May - July 2009
April - May 2009
Jan - March 2009
October - December 2008


subscribe
terms
imprint
Sawetz (C) 2008/9/10