WOMEN STYLE
fall/winter 2010/11

fashion by Maloja for Audi A1, Calida, Freitag, Pierre Lang, Adidas
beauty by Lanvin, Balenciaga, Lancôme

Street wear
In October 2010, Fashionoffice received an image showing a female racer in sportive fashion pieces that are created for the style of a new car.
On occasion of this rare coincident of 'woman-car-sport-fashion', Fashionoffice collected pieces that are inspired by pioneering women and pieces that have a bloody-oily-street touch.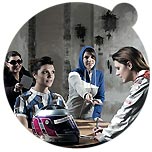 fig. original:
'Audi A1' fashion collection by Maloja, launch in October 2010. The photo shows Audi team racer Katherine Legge (video) in pieces by the German sportswear label Majola for the clothing collection of the newest car 'A1' by Audi. The A1 collection consists of 14 pieces (wool jacket, checked, shirt, jeans, t-shirt...) for women and men.
'Jeanne Lanvin' eau de parfum, seen in FW2010/11. 'Jeanne Lanvin' is an homage to the founder (1889) of the house. In her lifetime, she has created scents like 'My Sin' (1925), 'Scandal (1933), 'Prétexte' (1937)... and her most successful perfume 'Arpège' (1927). The perfume that you can see on this page is created by Anne Flipo; the flacon design comes from Lanvin artistic director Alber Elbaz who was inspired by an historical bottle. He packed it into one of his favorite materials - silk tulle, with Paul Iribe's portrait of Jeanne Lanvin and her daughter on the closure. 'Jeanne Lanvin' eau de parfum premiered in September 2008.
Black body peeling scented with chypre and violets by Balenciaga; the 'Balenciaga Black & White' limited edition comes into shops by the end of October 2010.
'Dream' lingerie in tango-red and purple by Calida, FW2010/11.
'Hawaii Five' is a comfortable sized messenger bag (300x90x170 mm) for the essentials like keys, mobile phone, lip gloss, sunglasses, etc. with zipper and outer pocket by Freitag, seen in FW2010/11. Photo: Peter Würmli. The idea for the bag comes from the street. Originally designed in 1996 by the Swiss design brothers Freitag, the shoulder strap is made of a used car seatbelt, bicycle inner tubes, and used truck tarpaulins.
Necklace with 'statement'-pendants by Pierre Lang, FW2010/11. Photo: Pierre Lang. The words peace, magic, together, wonderland, love are written in bright colored antique-effect lacquer.
'Fever Gloss' in bloody black cherry by Lancôme, FW2010/11. Photo: (C) Hondodigital für Lancôme. The colors of the collection are inspired by the female avantgarde of the 'Belle Époque' at the turn of the 19th to the 20th century.
Black fashion wedges by the high fashion, streetwear, and sport inspired collection from the line SLVR by Adidas, FW2010/11. SLVR FW2010/11 presents classic sportswear silhouettes in new interpretations such as the laced sneaker a-like shoes as high-heel wedges.


Source: Original article with images on http://www.fashionoffice.org/collections/2010/streetwear10-2010.htm.


more fashion.at/mobile>
News from
September 2010
August 2010
July 2010
June 2010
May 2010
April 2010
March - April 2010
January - March 2010
December 2009 - January 2010
December 2009
November - December 2009
September - October 2009
July - August 2009
May - July 2009
April - May 2009
Jan - March 2009
October - December 2008


subscribe
terms
imprint
Sawetz (C) 2008/9/10