WOMEN STYLE
fall/winter 2010/11

fashion by Ann Christine, Maison Martin Margiela, Angel of Pleasure, charity shoes designed by Fergie
beauty by MAC Cosmetics, System Professional, S.Cute Paris
cuisine by Candy Doc
Women style
When the nights become longer, it's time for glitter and glam. In October, Fashionoffice picked some glamorous pieces for women like shoes designed by the musician Fergie or Lady Gaga's Viva Glam lipgloss.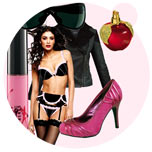 fig. original: beginning with the woman in...
Lingerie from the line 'Intimate' by the fashion label with own store chain 'Ann Christine', FW 2010/11. The label 'Ann Christine' presents dresses, skirts, jackets, trousers, jeans, lingerie, bags, etc. for urban-sportive day and seductively-sexy evening outfits in a refreshing light style. In 2007, the label opened the first store. In 2010, Ann Christine is available in 30 own stores in Germany, Austria, Croatia, Poland, Russia, Slovakia, Slovenia and the Czech Republic.
Sunglasses 'Anatomic' designed by Maison Martin Margiela, produced by Cutler and Gross, FW2010/11. This is the first collaborative collection of eyewear of the French couture house Maison Martin Margiela and the British eyewear label Cutler and Gross, founded by Graham Cutler and Tony Gross in 1969. On the website cutlerandgross.com you will find an extensive press coverage from glossy magazines like 'Interview' in May 2010 showing Madonna with black round Cutler and Gross glasses, and styling examples in Vogue, Glamour Russia, GQ... to name a few.
Individually customized leather jacket by the Viennese label 'Angel of Pleasure', seen in FW2010/11. On 26 September 2010, designer Magdalena Auff (born 1985) presented her label 'Angel of Pleasure' with the SS2011 'Starlight Reflection' collection at the MQ Vienna Fashion Week 2010. Magdalena Auff studied at the international fashion school Esmod and is a graduated women's tailor, which is also the basis of her handmade and customized designs. 'Angel of Pleasure' was founded in August 2009.
Viva Glam Gaga Light Blue Pink Lipglass by MAC Cosmetics, FW2010/11. MAC Cosmetics collects with the Viva Glam lipglosses - this year with Cyndi Lauper and Lady Gaga, from October on over 6 months money for the MAC Aids Fund.
Moisturizing 'Hydrate Infusion' by System Professional, FW2010/11. The new product is one of the main ingredients of a customized beauty-cocktail for individual hair structure and actual weather, which is massaged into the hair in System Professional Salons.
Pink high-heels designed by the musician Fergie, will be sold on 15 Oct 2010 (7 PM to 10 PM - ET) on QVC's 'FFANY Shoes on Sale'. The purchase of shoes presented by the Fashion Footwear Association of New York (FFANY) goes to breast cancer research and education. It is announced that more than 100.000 pairs of shoes from over 100 brands will be sold for half the manufacturer's suggested retail price. Fergie is this year's spokesperson for 'QVC Presents FFANY Shoes on Sale'.

'Apple Luxe Red' by S.Cute Paris, FW2010/11. Fashionoffice has received the information of the luxurious packed perfume with following words: "In Greek mythology, apple is the forbidden fruit, in the meantime, it is also the symbol of wisdom, Adam and Eve start to cerebrate after eating apple. ... Apples give people unlimited imaginative space."
'I Love You' labelled bottle with sweeties by the Viennese shop 'Candy Doc', seen in FW2010/11.


Source: Original article with images on http://www.fashionoffice.org/collections/2010/womenstyle10-2010.htm.


more fashion.at/mobile>
News from
September 2010
August 2010
July 2010
June 2010
May 2010
April 2010
March - April 2010
January - March 2010
December 2009 - January 2010
December 2009
November - December 2009
September - October 2009
July - August 2009
May - July 2009
April - May 2009
Jan - March 2009
October - December 2008


subscribe
terms
imprint
Sawetz (C) 2008/9/10