FASHIONOFFICE INSIGHT
by publisher Karin Sawetz November 2010
Karin Sawetz is journalist, media researcher and fashion scientist (Mag. Dr. phil.).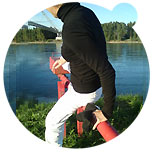 Crossing boundaries
"Well, I'm dressed up so nice
An' I'm doin' my best
An' I'm startin' over..."
sings David Byrne on the album 'The Catherine Wheel'. (Watch David Byrne performing the album song 'What A Day That Was' on stage.)

The album is one of my favorite music pieces! 'The Catherine Wheel' is inspired by the story of Saint Catherine of Alexandria (lived end of 3rd until the early 4th century). The Saint is adorned by many different religions and is celebrated each year on 24 or 25 November (belongs to the religion). The wheel stands for the wisdom of god. Catherine stood up for a new society. This was the reason why she was bonded on the torture-wheel. But the wheel broke and (god) punished her accusers.
Fortunately, the culture of protest is in our times legally fixated in the human fundamental rights as freedom of speech!
In the last month, media were filled with reports from the streets where people protested against shortening life quality. For sure, nobody should be impressed too much from the agenda of big business media companies! But what makes some of the protests really interesting is the fact that the groups on the streets are not protesting for their own sake, but for the old and the very old ones in our society.
There are many reasons to become politically active. Get inspired by the following articles:
Fashion and political activism
Vivienne Westwood says: "The principal idea of Active Resistance is that you get out of life what you put in and that real experience of the world involves thinking."
Art made of Vinyl records and Google search by Carlos Aires: "...the same finger that switches off the computer screen on which you have just watched horrible images of a war, afterwards rings the bell of a private nightclub."
Languages and the meaning of words
Laurie Anderson's most recent music-visuals-puppets-installation 'Delusion' is part of the exhibition 'I in U / Eu em Tu' at the CCBB in São Paulo. "At the heart of Delusion is..."
Robots and the programmed perception of our world
Jessica Field's robot installation 'Semiotic Investigation into Cybernetic Behaviour' is part of the exhibition 'Robot Dreams' at the Kunsthaus Graz, Austria...
Articles with the most impressions in October 2010
The statistics of the different media Web, Mobile, and Feeds give an insight into user preferences. The Trendletter is not tracked by a statistical tool. Ranking of the most viewed editorial pages between29 September - 29 October 2010, data by Google Analytics (the bold fonts signify articles from the last 12 months; the others are from the respective month-year). The technics of Fashionoffice (fashionoffice.org, fashion.at, confashion.com, beautyme.com, styleradar.com, beautyradar.com, FashionAvigator.com, cytara.com) is outsourced to a US hosting provider with data centers in US, Massachusetts.

Web
Fashionoffice: fashion.at, beautyme.com, confashion.com
/ss2007/galati6-2007.htm
/ss2007/lenesecher5-2007.htm
/ss2007/puma3-2007.htm
/ss2007/philippplein4-2007.htm
/ss2006/jiwonree6-2006.htm
/ss2008/ibm1-2008.htm
/ss2007/inhorgenta4-2007.htm
/ss2008/ritukumar10-2007.htm
/ss2007/schweitzberger5-2007.htm
/ss2007/garges6-2007.htm
/ss2007/venlai5-2007.htm
/ss2007/generalmotors6-2007.htm
/cosmetics/2008/makeupforever10-2008.htm
/culture/2008/chanel5-2008.htm
/fragrance/calvinklein10-2005.htm
/film/domino11-2005.htm
/cosmetics/2006/givenchy12-2006.htm
/culture/beecroft10-2003.htm
/culture/wurm5-2003b.htm
/who/calvin1.htm

Mobile
fashion.at/mobile
/karinsawetz10-2010.php
/menstyle10-2010.php
/silvioliu10-2010.php
/vincentminor9-2010.php
/activeresistance10-2010.php
/eveningstyle10-2010.php
/winterstyle10-2010.php
/womenstyle10-2010.php
/burberry9-2010.php
/gwenstefani10-2010.php
/collectibles10-2010.php
/strellson11-2008.php
/travelstyle10-2010.php
/fridakahlo10-2010.php
/snowstyle10-2010.php
/xulybet1-2010.php
/bourcart10-2010.php
/carlosaires10-2010.php
/markronson10-2010.php
/smashbox10-2010.php
Keywords that bring users by search to Fashionoffice:
(Google Analytics 29 September - 29 October 2010)
fashion.at and fashionoffice.org
fashion
chanel
film noir fashion
film noir costume
fashion office
fashionoffice.org
vanessa beecroft
magazine editorials
office fashion
strellson
step up
tableaux vivants
one minute sculptures
steven stahlberg
vichy
penelope wilton
europe fashion
frauen
jim avignon
beecroft
beautyme.com
euphoria
euphoria calvin klein
wella
vichy
helena rubinstein
make up
50's make up
make up forever
50s make up
mac cosmetics
make up style
max factor 2000 calorie
lip fusion
make up natural
michael la delle
50's makeup styles
50s makeup
egyptian beauty
guerlain terracotta
beautyme
confashion.com
pierre garroudi
confashion
contemporary man
confashion.com
korean fashion 2011
levis 2010
levis jean paul gaultier
bikini girls foto
burberry london special edition
jean paul gaultier levis
lie sang bong
martin margiela
my confashion
olga mashkova
philipp plein jeans
pierre cardin 2011
pierre garroudi 2010
stephanie garges
www.confashion.com
"d&g" mens ss2010

Ranking of the Fashion Feeds (from 29 September – 28 October; data delivered by Feedburner) after views and clicks.

FashionFeeds
http://feeds.feedburner.com/FashionFeeds

Name, Views, Clicks
3/10/2010 - 'Run Away' by Unkle Nancy 118 491 –
9/10/2010 - 'To Binge' by Gorillaz feat… 110 450 –
8/10/2010 - 'Stormy Weather' by the Bri… 117 443 –
8/10/2010 - Snowboard movie 'At Equilib… 120 365 –
5/10/2010 - Disco dance music video 'Wa… 103 364 –
2/10/2010 - Paris catwalk: Glossy, punk… 124 337 –
Fashionable "Hercules and Love Affair" … 87 338 –
13/10/2010 - Two synth-disco music-brot… 100 308 –
10/10/2010 - 'Eat Raw Meat = Blood Droo… 112 293 –
17/10/2010 - 'Empress of the North' by … 88 312 –
15/10/2010 - Free music download: 'The … 93 304 –
29/9/2010- Catwalk show: Nicolas Andréa… 136 260 –
29/9/2010 - Re-listen: 'Absurd' by Fluk… 139 241 –
26/9/2010 - Inspired by fairies; seen a… 77 301 –
15/10/2010 - Punk-rock band 'The Gaslig… 95 281 –
Feminist music 89 276 –
17/10/2010 - Video: Dava Newman's 'Seco… 88 259 –
2/10/2010 - Invasion of the robots 123 207 –
16/10/2010 - 'Tighten Up' by the The Bl… 91 233 –
21/10/2010 - Video: Juliana Sissons spe… 61 243 –
20/10/2010 - Invitation to an Online-DJ… 71 231 –
24/9/2010 - Peak Performance invites to… 74 217 –
etc.

Source: Original article with rankings and image on http://www.fashionoffice.org/survey/2010/karinsawetz11-2010.htm.


more fashion.at/mobile>
News from
July 2010
June 2010
May 2010
April 2010
March - April 2010
January - March 2010
December 2009 - January 2010
December 2009
November - December 2009
September - October 2009
July - August 2009
May - July 2009
April - May 2009
Jan - March 2009
October - December 2008


subscribe
terms
imprint
Sawetz (C) 2008/9/10